Best dispensaries in Connecticut
Connecticut is often called the Constitution State, and it's because this state is home to what many people consider to be the first-ever written constitution of the United States. Not only does this state have a whole lot of history when it comes to constitutional rights, but it's also creating its own history in terms of hemp and cannabis products right now.
Connecticut is a great state if you want to visit a variety of seaports, the Mark Twain House and Museum, amusement parks, and so much more. However, what is quickly becoming one of the largest attractions across the state is the multitude of cannabis and marijuana dispensaries. For those of you who didn't know, cannabis is totally legal in the state of Connecticut for anybody over the age of 21.
People in the state of Connecticut can possess up to 1.5 ounces of cannabis, and it is fully legal for both recreational and medical use. That said, you do still have to find it. Right now, we're going to take a look at some of the retailers you may consider the best dispensary in CT.
Bluepoint Wellness is a fantastic CT weed dispensary to consider. As it appears, this dispensary contains products that are mainly for medical purposes. However, marijuana is legal in the state for recreational purposes, so recreational users can purchase it from here as well. This dispensary is located in  Westport, CT. At this time, it has 4.8 out of 5 stars, based on 150+ Google reviews.
This dispensary was first created in 2013 by pharmacists, with the main goal of providing medication-related care for improving the quality of life of people across the board. The focus here is to dispense medical cannabis with a focus on education, outcomes, and patient experience.
It's all about offering high-quality, innovative, and groundbreaking services to increase patient satisfaction. There is a 10-mile delivery radius and a $50 order minimum for deliveries. If you are looking for medical marijuana strains to smoke, as well as CBD products, then this is the best dispensary in CT to take a look at.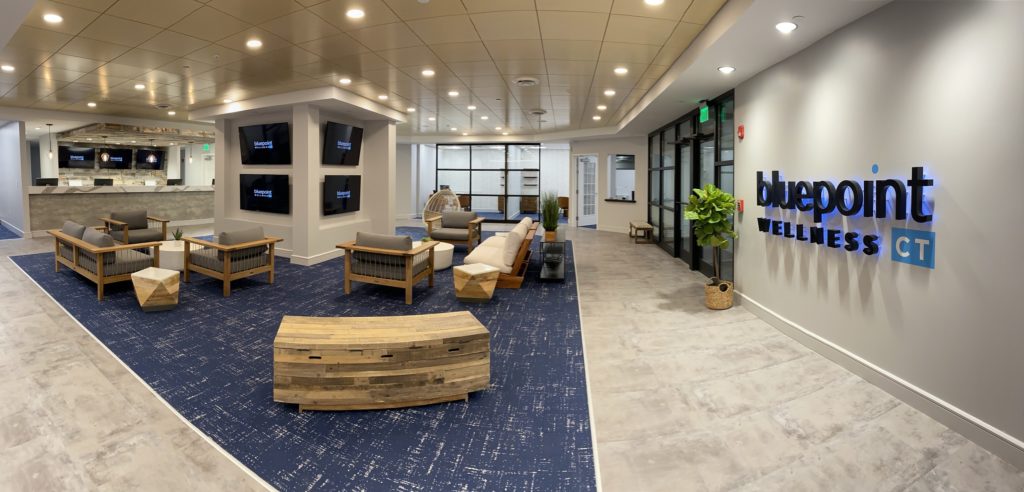 Photo Courtesy of Bluepoint Wellness 
When it comes to CT cannabis dispensaries, Curaleaf is always one worth considering. This is yet another medical marijuana dispensary, although once again, people from all walks of life can purchase from this dispensary.
To be clear, this dispensary has multiple locations, some of which appear to be for medical purposes and some for recreational. There are stores located in Groton, Hartford, Milford, and Stamford.
These dispensaries feature a wide variety of products, including edibles, topicals, pre-rolls, vaporizers, flowers, and pods. It also carries a wide array of brand names, including its own Curaleaf brand name, which is one of the most popular on the site. 
You can buy in-store or order online. Please note that all products here are produced and cultivated with the absolute highest standards possible. So, if premium quality is what you're after, then this is probably the best dispensary in CT to be at right now.
Another good marijuana dispensary in CT is Affinity Dispensaries. The Affinity Dispensary is located in New Haven, CT, and this is a singular store. It currently has a 4.5 out of 5-star rating based on 150+ Google reviews, which means that it is indeed quite popular.
This particular dispensary sells products designed for general adult use, which means that recreational users can purchase from this dispensary. It first started out as a medical marijuana dispensary for people suffering from a variety of ailments, but since then has turned into a general adult-use store.
The store is a whopping 3,200 square feet and is filled to the brim with various brand names, and sells various types of cannabis flowers, edibles, topicals, vaporizers, and much more. In the New Haven area, it is one of the most popular dispensaries by far. It is also rated as having absolutely excellent customer service.
Photo Courtesy of Sill River Wellness 
Still River Wellness is yet another CT marijuana dispensary worth looking into. Still River Wellness is located in Torrington, CT, and is, in fact, one of the only dispensaries in this area, giving it pretty good foot traffic. At this time, it features a 4.6 out of 5-star rating based on 70+ Google reviews.
This is both a medical dispensary and a general adult-use recreational dispensary. Keep in mind that there are various restrictions or qualifications that need to be met in order to qualify as a medical patient. What people have to say about this dispensary is that it has excellent staff and fantastic customer service.
This dispensary also sells products from a variety of brand names, with Curaleaf actually being one of them. This dispensary sells a variety of products, including chocolate, gummies, pre-rolls, vapes, and flour. Although the selection from this dispensary is not massive, the products are very high quality. This is often seen as being one of the very best dispensaries in the state.
Southern CT Wellness & Healing might just be the number one best dispensary in Connecticut. This dispensary is currently one of the most popular ones located in Milford, CT. It features a whopping 4.8 out of 5 stars based on a massive 700+ Google reviews. It is, therefore, one of the most reviewed and most highly rated dispensaries in the whole state.
Keep in mind that this is strictly a medical marijuana dispensary. The main goal here is to provide physicians, caregivers, and clients with the highest quality possible service and care. The approach here is to mix traditional palliative care management and alternative therapies, with the main goal being the positive outcomes and well-being of all patients.
The staff here consists of various people with expertise in fields including cannabis, psychiatry, pain management, oncology, and palliative care. Some of the brands featured here include Advanced Grow Labs, CTPharma, Curaleaf, Luvbuds, Theraplant, and more. You'll also find plenty of great products, including vapes, topicals, tinctures, pre-rolled joints, flowers, extracts, and edibles.
In terms of CT marijuana dispensaries, Zen Leaf is always worth looking into. As a whole, this dispensary has many locations throughout the United States. However, the particular one we are talking about is located in Meriden, CT. 
At this time, based on 500+ Google reviews, it has a 4.7 out of 5-star rating, which is, of course, quite impressive. This dispensary can also be found in other states, including Nevada, Arizona, Arkansas, Illinois, Michigan, Ohio, West Virginia, Pennsylvania, and more.
What is pretty cool is that this is both a medical marijuana dispensary and a general adult-use recreational dispensary. You will find a variety of brands here, including, but not limited to Advanced Grow Labs, CTPharma, Curaleaf, and Elements. This dispensary doesn't have the biggest selection in the world, although they are high-quality products. These include a variety of edibles, cannabis flowers, pre-rolled joints, vaporizers, and some gear.
The first Zen Leaf dispensary was founded in 2016 in Las Vegas, but the locations quickly spread throughout the United States. This brand focuses on providing thoughtful and expert recommendations that suit your needs. Another focus is to always provide consumers with the best of the best processors and cultivators on the market.
The Botanist dispensary can be found in both Danbury, CT, and Uncasville, Connecticut. Across the board, this dispensary features a rating of 4.7 out of 5 stars based on nearly 500 Google reviews. One thing to keep in mind is that this is strictly a medical marijuana dispensary.
If what you are looking for is selection, this is one of the best brands to consider. Here you will find brand names such as AGL, Bic, CTPharma, Curaleaf, Elements, RAW, Select, and many more.
Photo Courtesy of the Botanist 
There are also plenty of great products to choose from, with this particular dispensary having one of the largest selections of all dispensaries on our list today. Here you will find several hundred products spread across various categories, including edibles, extracts, flowers, gear, pre-rolled joints, sublingual products, topical products, and vaporizer products.
The Fine Fettle Dispensary has several locations, including Newington, CT, Stamford, CT, and Willimantic, CT. Keep in mind that the Newington location focuses specifically on medical cannabis, with the other ones all being for basic general adult use. 
All of the locations have very high ratings, well above 4.6 out of 5 stars, and this is based on several thousand reviews.
One of the main goals of this brand is to provide people with a down-to-earth, informational, and whole full resource that would teach people about both recreational and medical cannabis usage. 
This brand also strives to provide everybody with a very customized and personalized experience while always treating customers as family. The focus here is on the individual. This dispensary also happens to have a fantastic selection of products across the board.
Best Dispensary in CT – Final Thoughts
Connecticut is home to some of the best dispensaries you'll find in America. The nationwide adaptation of cannabis and hemp has done great work in CT, and if you're a cannabis enthusiast, this is a great place to be. The places we mentioned here today are the best CT marijuana dispensaries you can find in the city, and we can practically guarantee you'll love visiting any of these!
Looking for more recommendations on the best dispensaries near you? Check out our guide to the Best dispensaries in Las Vegas or Best dispensaries in Ann Arbor to learn more.