Willie's Reserve Gorilla Glue #4 Pre-Roll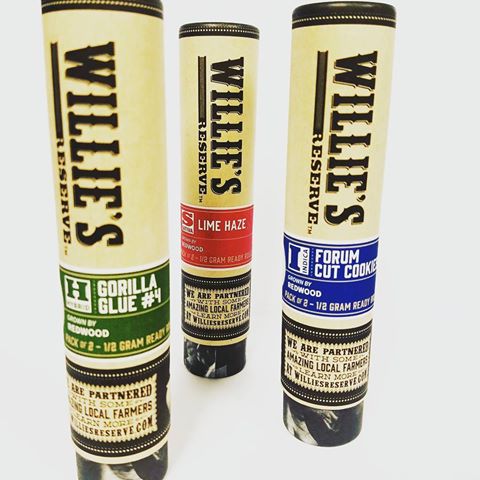 Country Western singer Willie Nelson's songs are available for purchase almost everywhere, but Californians who want to obtain his branded cannabis products, launched earlier this year, will find themselves "on the road again," to borrow lyrics from one of his best-known songs.
Las Vegas is the nearest city in which medical dispensaries sell his flower, pre-roll, medicated chocolate and vapor products. They're grown and produced for the Willie's Reserve label by six different cultivators in Washington and Colorado, according to the brand's website. Because Nevada allows Californians with a doctor's recommendation to join its collectives, we were able to visit Essence Cannabis Dispensary on a recent Las Vegas trip, and to buy and try three Willie's Reserve pre-rolls available there at the time: Lime Haze, Gorilla Glue and Forum Cut Cookies. (Essence has since discontinued selling Willie's Reserve, but some other dispensaries in town, such as Sahara Wellness and Inyo Fine Cannabis Dispensary, carry a wider variety of the line's pre-rolls.)
The Willie's Reserve tested here was grown by Redwood, according to the label, a grower not included on the list of farmers found on the Willie's Reserve website.
The GG#4
Gorilla Glue #4 had a piney, pungent smell with a peppery taste that yielded a pleasant floatiness and then two hours of calm. How strong was its effect? I walked around the Fremont Street Experience, where visitors stroll in an outdoor mall with 32-ounce drinks in-hand as neon lights flash, street performers hustle, DJ music blares and tourists fly by on a zip-line that runs overhead. After only two hits, the cacophony subsided, as if I were in my own private bubble and everyone else was on the outside. An hour later, as I sank into a cushioned booth at a brew pub for dinner, the mellow was still there, making for a relaxing evening.