Cute bongs perfect for Barbie summer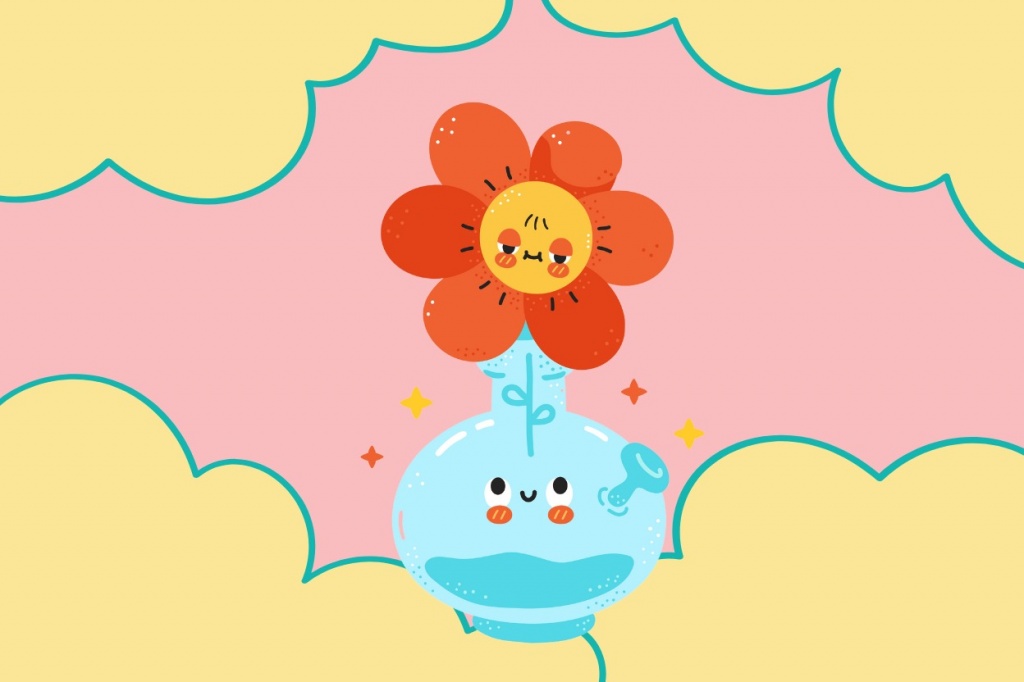 There was a day when bongs only came from head shops. The walls were adorned with a beaker bong assortment, mini bongs, and other mass-produced products. These pieces weren't personalized, and there was only one aesthetic. As cannabis became legal in more states and it got less dicey for ceramicists and designers to enter the space, the bong options have expanded. Now, cute bongs are bountiful, just in time for Barbie summer.
With Barbie bringing back hyper femininity, girly bongs and the color pink are having a moment. This list capitalizes on both, water pipes don't have to be boring. Check out some of the cutest bongs perfect for the femme in your life.
RELATED: These cannabis brands also sell really cute clothes
Stündenglass in pink
Perhaps obvious but still fitting, the newest addition to the Stündenglass family had to make the cut. Why? Because it's pink.
This bong uses two chambers of water and gravity to deliver a heavy hit. Choose to consume hookah style or with a straw mouthpiece, and don't worry about putting your mouth directly to it. The force of gravity pushes the smoke out–all you have to do is inhale.
Lucky Blow Call Me
View this post on Instagram
Before you get your hopes up, this one is sold out, but it's so adorable it had to make the list. Call Me is a rare mid-century Japanese decanter that looks like a candlestick rotary phone. Though we're not sure how to clean the bong, we hope it's adorning the mantle of a maximalist bestie somewhere out there.
Bud & Rose Quinn
Have guests questioning if it's a vase or a bong with Quinn, a refurbished antique smoking device from Bud & Rose. This cute bong is taupe with a large water chamber that's destined to chug, meaning it'll create a well-cooled, thick hit.
The crystal decanter top that fits into the mouthpiece is handy between sessions to cut back on the bong water smell. This is a lovely option for the femmes with antique furniture and a thrifted wardrobe in their closet.
RELATED: What is THCV? The skinny on the appetite suppressing cannabinoid
Wandering Bud Blossom Bubbler
Sure, it says it's a bubbler and not a bong in the name, but that won't stop us from putting Wandering Bud on the list. This handmade ceramic water-filtered smoking device is close enough to a bong anyway.
Blossom looks like a cloud merged with stairs and has a handle on the bottom for one-handed hits. Come to think of it, maybe that's the difference between a bubbler and a bong. Anyway, Blossom comes in multiple colors, all of which are cute.
Puffco Peak Pro in pearl
Puffco pieces and accessories are famously industrial, but with the new Pearl colorway, the new Peak Pro brings cuteness into the fold. The smart e-rig is also available in the classic Onyx colorway. Both feature a joystick cap and laser cut perc slips to optimize airflow for a desirable hit in addition to the patented 3D Chamber. Oh, and it lights up rainbow during a hit. Download the app to optimize the smoking experience with this surprisingly girly bong.
My Bud Vase Blue Dream
My Bud Vase is one of the first brands to make bongs out of antique decanters, selling sets of goblets with matching bongs. The Blue Dream set features three cobalt-blue glass goblets and a matching decanter-turned-bong. This would be a delightful addition to a bar cart or coffee table– it's ideal for entertaining.
Canna Style Cute Bong featuring boba
View this post on Instagram
Kauai style Boba Bong from Canna Style features a little smiley face on a glass bong that looks like a green cup of boba. This cute little water bong is made from borosilicate glass which is extra durable and has a clear top that reveals the building smoke during a hit. While you're on the Canna Style site don't forget to scope out their heart bong collection.
Session Goods GLOW
View this post on Instagram
This limited edition version of the Sessions Goods classic designer bong is a collab that actually glows in the dark! Sessions bongs cool smoke nicely for a palatable but robust hit, and now you can see it without turning the lights on. It's easy to clean, easy to hit, and easy on the eyes: GLOW fits into the cute aesthetic.
Cute doesn't always mean pink bongs, but sometimes it does. This list proves that cute, pretty bongs come in various shapes, sizes, and colors. And they're just as functional as a perc bong.. The most important thing about choosing a bong is that it functions the way you want it to but being adorable doesn't hurt.