22 top shelf picks from Hall of Flowers 2023
Ah, Spring. The days are getting longer, the temperature is rising, and the grass is turning greener by the day. Another clear sign of the season: the return of Hall of Flowers.
Hall of Flowers is considered one of the hippest events in California cannabis, featuring two days of seshes, sunshine, and show-and-tell. Held at the Sonoma County Fairgrounds in Santa Rosa, the event allows brands to shine as they mingle with retail buyers, journalists, and the industry elite.
An open-air courtyard with plenty of oversized pillows provides attendees a place to connect and test the products secured at the show. A DJ keeps the vibes high as clouds of smoke waft in the breeze. It truly is the most wonderful time of the year.
The unique part of Hall of Flowers is the sampling. Brand representatives distribute vouchers that can be exchanged for goods at the on-site dispensary for the low price of $3. Some bigger brands offer a point of sale directly in their booths, but most rely on the tried-and-true coupon method.
This year's Hall of Flowers, while a bit quieter than years past, seemed to draw a lot of new faces. Several well-funded brands battled for attention with over-the-top activations (the presence of a human claw machine was definitely a first), but the most interesting and arguably highest-quality products were at the smallest, most unassuming booths.
So what had us intrigued during Hall of Flowers 2023? From cannabis-infused mashed potatoes to mind-blowing sungrown flower, there were plenty of impressive offerings. Here's our list of the standouts—22, to be precise.
It's All About Choices – Infused Mix Multipacks
There's literally something for everyone in the cannabis market nowadays, and It's All About Choices personifies this notion. Offering a dizzying array of snacks, water-soluble drink mixes, sauces, and even ice cubes, the brand generated quite the buzz at the last Hall of Flowers after word of their cannabis-infused dried mashed potato packet spread throughout the fairgrounds. 
This year, It's All About Choices was back with a vengeance after finally launching in select MedMen stores back on 4/20, where customers can pick as many individual packets as they want or purchase curated boxes meant to fit any occasion. 
Sol Spirit Farms Flower
Emerald Triangle favorite Sol Spirit Farm was among the most popular legacy operators in the "Small Farm" section of Hall of Flowers. Their table was bursting with fresh flower terps from the garden and chock full of jars to examine.
After experiencing the brand's Sol Shine, Headband, and Burmese Mimosa at last year's Harvest Ball, I simply couldn't wait to see what was in store. The Element variety, one of Sol Spirit's two Emerald Cup entries for 2023, was particularly intriguing, offering a sweet and skunky aroma with a fresh mint dry hit. 
Space Gem Mango Tincture 
Space Gem never ceases to impress, and this year's Hall of Flowers was no exception. Their booth had everything: an astronaut making balloon animals, an iridescent step-and-repeat to create a picture-perfect moment, and literally the best ice-water hash edibles money can buy. 
The brand was celebrating the launch of its new mango-flavored tincture, a potent and delicious way to blast off into the galaxy. The entire bottle has 600mg of THC, offering consumers the ability to find their perfect dose for any occasion.
Lavinia Pre-Sex Gummies
Lavinia, a woman-owned brand offering a unique range of intimacy products, definitely captured attention. While the brand was only sampling a silicone-based cannabis-infused lubricant, news of an upcoming pre-sex gummy piqued my interest. 
Set to launch soon, the pre-sex edible will contain 10mg of THC along with a number of stimulating compounds, such as maca root, tongkat ali, and horny goat weed. All of the ingredients are thought to act as vasodilators, meaning they promote blood flow and may increase stimulation.
SOG Army Flower 
SOG Army has been making waves for some time, and after a missed connection at Harvest Ball, I was finally able to secure a few varieties of the brand's small-batch cannabis at this year's Hall of Flowers. 
The Zoap and Goobers definitely packed a punch, but it was the Pink Zaza that truly wowed. With a floral, sweet aroma and a mellow high perfect for a Sunday Funday, the Georgia Pie x Pink Runtz cross was a clear contender for best bud at the show.
Cramp Stamp Temporary Tattoo Patch
Topicals are arguably some of the most useful cannabis products, yet you don't see enough of them out there as the market shifts from medical to recreational. While a few brands have conquered the market, there's always room for more. 
The Cramp Stamp temporary tattoo caught my eye, as it offered a little something different by way of the topical game. The tattoo has 10mg of THC delivered to the body through the skin, perfect for sore muscles or the dreaded stomach pains that come with a certain time of the month. 
Emerald Bay Extracts RSO Tablets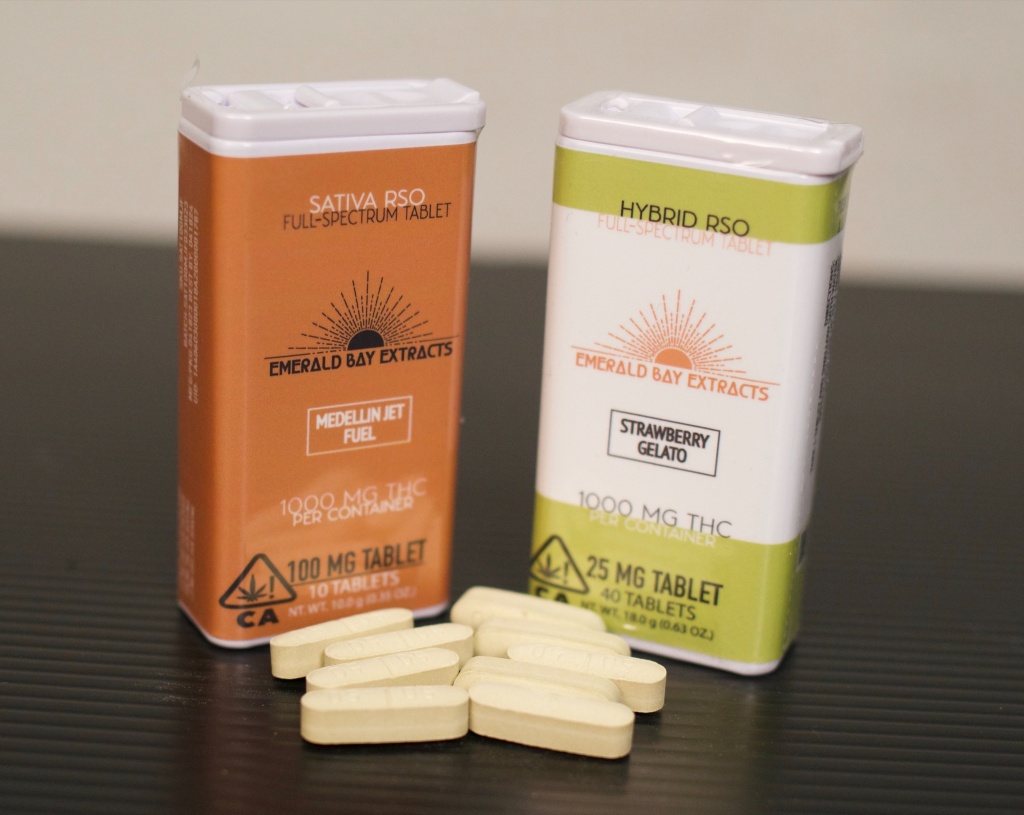 This product was certainly one of the most exciting for me at this year's Hall of Flowers. I bumped into my good friend Neil toward the end of day two, and when I asked him if there was anyone who thought I should meet. He immediately brought me to the Emerald Bay Extracts booth knowing their high-dose RSO (Rick Simpson Oil) tablets would intrigue me. Indeed, he was correct. 
While I am currently not at a place in my life where I could comfortably consume a weed tablet with 100mg of THC, there are many people who can benefit from a product like this, particularly medical patients. Emerald Bay Extracts also has 25mg and 50mg tablets, along with the brand's flagship product RSO in dose-able syringes. 
Cookies Dual Chamber All-in-One Vape
The Cookies booth at any event is always a spectacle, but the concept of two vape carts in one was one I had to dig deeper into. While not the first brand to do something like this, the Cookies version was admittedly curious. The disposable vape has a button at the bottom that allows consumers to switch back and forth between tanks. Press it once, the light flashes blue; press it again the light flashes red, indicating which of the two flavors you would be hitting, in this case, Berniehana Butter or Tequila Sunrise. 
The first two hits on either side were distinct, but eventually, they seemed to form an amalgamation, regardless of which color was lit. While I do believe the demand for a product like this definitely exists, this vape felt more of a novelty than a solution. 
Storz and Bickel – Mighty+ Dry Herb Vaporizer
The Volcano from Storz and Bickel was a true game changer for the cannabis community, and while it has seen many imitations, there's simply nothing that can beat the iconic dry herb desktop vaporizer with regard to function or durability. Now, fans of the German brand can enjoy the experience of Volcano anywhere with the Mighty+. 
A portable dry herb vaporizer that utilizes the same innovative technology as the original Volcano, but in a much smaller form, the Mighty+ has a digital temperature display with custom controls, monster battery life, and a hit that's smooth and silky. The Crafty+, an even smaller version of the Mighty+, is especially great for people on the go. 
Garden Society THC-V Gummies
The THC-V cannabinoid is experiencing a moment thanks to its focused and uplifting high that tends to leave people energized without the munchies. Garden Society, a women-owned brand known for its flower and edibles, recently launched a THC-V gummy in a deliciously effervescent kiwi lime sauvignon blanc flavor. 
Similar to a sativa strain, THC-V gives you everything you love about these uplifting varieties minus the anxiety. The product is great for when you want to medicate but still need to get things done. 
Halara CBN Vape Cart
Another minor cannabinoid that has seen a surge in popularity is CBN. The compound, a derivative of THC, is mostly marketed for sleep thanks to its perceived sedative effects. I've been using CBN more for anxiety and find myself excited about trying a vape since the vast majority of CBN products on the market are edibles. 
Halara is run by an extremely intelligent steam of experts, so I felt I was in good hands with this offering. The company's Cloud 9 vape cartridge contains THC, CBD, and CBN-the ideal trifecta for rest and relaxation. Having a CBN vape is fantastic for folks who want quick onset in a simple-to-use vessel.
Hautebox by Charlotte Welch Joint Cases
My first order of business during Hall of Flowers 2023 was checking out a Spring Sesh event in downtown Santa Rosa. Hosted by Hautebox and featuring a number of brands, including Garden Society, SOG Army, and Kanha, it was a lovely and relaxing vibe that started the week off on a high note. 
Hautebox is an adorable and incredibly useful line of cases that can hold multiple joints and a lighter. The smell-proof and water-proof boxes come in a range of colors and styles that match any personality or occasion. The brand has seen an incredible amount of mainstream attention and is available at Urban Outfitters and other fine retailers. The sleek and sexy Hautebox makes storing cannabis fun and functional at the same time.
Gold Drop Liquid Loud Vape Carts
Gold Drop is one of the most trusted names in the game, and the debut of their Liquid Loud line of terpene-specific vape carts was met with great fanfare. The cartridges are a great way to further educate the market about these compounds and the important role they play in how weed affects you.
I gravitated toward gas-forward terpinolene, but it appeared that the myrcene cart was most popular among the Hall of Flowers crowd. I look forward to taste testing the entire line, but my initial reaction was two thumbs up.
Errl Hill Extracts Concentrate
While the majority of the samples that ended up in my bag were flower, a select few jars of oil also made the cut. The Errl Hill Blueberry Muffin was for sure a standout, with loud citrus terps that made me do a double take.
I was lucky enough to score the very last jar of this saucy wonder and thanked the terp gods that I would be able to taste this coveted concentrate. Offering strong notes of berry and dough, and a high that goes straight to the dome, the Errl Hill was a hit I was happy to take.
A Golden State Flower & Live Rosin Vaporizer
A Golden State is definitely one of the more consistent cannabis brands, always impressing the masses with its exquisite bud and clean branding. I have always wondered what their secret was, and it was finally revealed to me at Hall of Flowers 2023. 
The brand's facility is up in Shasta, which I was always told had very special energy, especially in the mountain water. When I deduced that the Shasta water had to be part of the special sauce, it turned out I was half right. The other key ingredient? A proprietary bacterium in the soil that gives the plants roots exactly what it needs to thrive. 
I decided right then and there that I just had to see the entire operation for myself, so stay tuned. In the meantime, I settled with some Snow Dream and Alpine Sunrise flower along with a Lava Flower live rosin vaporizer to tide me over—fortunately, they were just as amazing as I expected from this brand. 
Humboldt Family Farms Flower
Another Emerald Triangle sungrown brand, Humboldt Family Farms had a number of nice smelling jars. But the presence of the quintessential Blue Dream strain was beyond pleasing. In an age of hype weed, where people are often obsessed with the latest drop or exclusive collab, seeing a resurgence in some of the classic strains that withstand the test of time is always a delight. 
This flower was everything I hoped it would be: cheesy yet fresh, high but not stoney. I was grateful to receive this jar from Humboldt family farms, and I certainly hope to see more Blue Dream making the rounds for years to come.
Fig Farms High Flyin Solventless Edibles
Fig Farms has some of my favorite flower in the Bay Area, so the announcement that the brand was coming out with edibles elicited quite a response from the community.
On first examination, the packaging was fun and lighthearted, offering more color and contrast than the company's traditional branding. The fact that the gummies and chocolates are solventless is also a win. Fig Farms never fails to impress, and their foray into the edibles category clearly continues the trend.
Joshwax Flower
A decent-sized crowd in front of this booth as I was perusing the halls drew me into Joshwax, but it was the way the flower was produced that kept me around. The company uses chemotyping, living soil, biodynamics, and veganic practices while the branding is anime chic—meaning they have plenty of ways to entice the consumer.
Up until recently, I had no idea that most weed is not technically vegan, and seeing a product that reflects this concern was cool. The jar of Seabiscuit A2 I received was loud as can be, filled with beautifully formed nugs bursting with color.
PAX Era + Pods
PAX has made quite the name for itself over the years, thanks to its compact, convenient, and functional technology. The company's dry herb vaporizers are a stalwart of the industry, but the oil pod and battery system is also slick.
I was a fan when the products first debuted, and the latest iteration of the era takes all of your favorite things about the tech and brings it to a new level. Great battery life, an easy draw, and limited clogging make this system a sure bet.
Sonoma Hills Farm 1:1 THC:CBD Flower
During my time at the Hall of Flowers, I had the chance to visit Sonoma Hills Farm. The property plays home not just cannabis plants but also a menagerie of animals and event space that often attracts top-tier chefs and brands. 
During my visit, I met some lovely donkeys, sampled some tasty mocktails from Maison Bloom, and had a chance to sample the farm's Gush Mints 1:1 CBD:THC flower. As a big proponent of high CBD strains, it was nice to see a brand with such influence putting a product like this out there. The packaging itself was gorgeous, but the bud inside was just as special. 
Thai Stick by Dee Thai Vape Pen
Dee Thai is best known for their gummies that transport you to Thailand's famed fruit markets, but the introduction of its Thai Stick, a disposable vape pen, brings the brand to a whole new level.
For those who want a taste of Thailand without having to reach for the pack of edibles, this vape is a perfect option. Bursting with flavor, the Thai Stick is a fabulous addition to any cannabis arsenal.
OOKA x seven9
The hookah style of pipe has been around for millennia, but the OOKA brings your sesh into the year 3000. The device's corresponding pre-filled pods made by seven9 have a microchip sensor, and when placed inside the unit, the OOKA is able to automatically detect the precise temperature ideal for that strain. 
There are currently five varieties of effects-based pods, including high CBD strains, offering a little something for everyone. Already established in the tobacco category, OOKA is currently in pre-launch mode with regard to cannabis, expecting to roll out to consumption, lounges, and consumer homes in the coming months. I tried the 3:1 CBD:THC pod, dubbed "Zone In," at the Grasslands Daybreaker event before Hall of Flowers day two. The device hit like a dream, and the effects were mellow enough to ease me into a jam-packed day.
Hall of Flowers 2023 Final Thoughts
Hall of Flowers is always a compelling case study on the state of California cannabis, and this year's event was no different. Despite a smaller showing from some of the more established brands, it was clear that emerging companies know that Hall of Flowers is the place to be if you want to expand. After speaking with as many new people as possible, I left the event excited about what was to come, knowing that innovation and growth are indeed on the horizon.