10 novelty lighters to spark your bowl
Lighters, am I right? They're small, easy to lose, and almost always essential to smoking a bowl. It is eternally frustrating to saunter onto a hiking trail or to a park sesh only to realize that the lighter is still at home.
Sure, there are solar bowls, but not everyone travels with a magnifying glass. Perhaps, if the lighter was a little more fun, it wouldn't be so easy to leave behind.
These ten novelty lighters range from silly to classy, and many are refillable. Despite the aesthetic, every one brings an edge to the plastic lighters readily available on the gas station counter. Not to mention, a refillable lighter won't end up in a landfill once they empty like those other options.
Let's look at ten of the most novel lighters available for stoners right now.
Sackville & Co Chili Pepper Lighter
View this post on Instagram
Whether you can handle spice or not, the Sackville & Co Chili Pepper Lighter is on your side. This refillable trinket is adorned with a Tabasco-inspired Sackville logo and shaped like a red serrano pepper. Flick off the green top to light it, and slide the spicy little fire starter back into your pocket or stash bag.
Troll lighter
Once beloved Troll doll toys are being hollowed out and made into the cutest lighter covers. Copping one of the little doll torches could be an effective tactic to avoid getting your lighter stolen, like, ever again. These are available from multiple retailers, but Trippy Daze lets you choose Troll's knit sweater, which feels extra special.
Zippo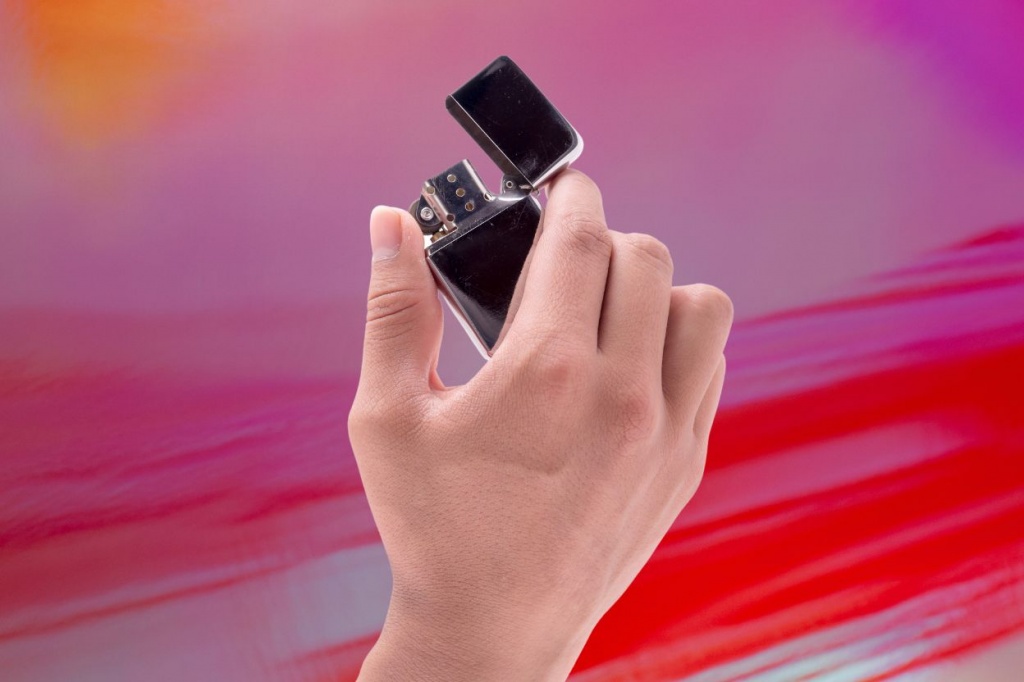 This list obviously had to pay homage to Zippo, the mother of all refillable lighters. The brand was founded in 1933 with the invention of the first one-handed lighter. Zippo is still owned by the original inventor's family, but the company has grown to have over 500 employees.
Zippo lighters are refillable and come in countless customizable options, though not all are bowl-ready. These lighters, and some others on the list, require hemp wick to light bowls. Those who prefer a rounded look to the more modern hard edge might flock to this classic lighter.
Edie Parker Burn Bag
View this post on Instagram
It-girl fashion brand Edie Parker carries various cannabis accouterments, including multiple novel lighters. The Tabletop Lighter is timeless and available in a bounty of colors, but the Burn Bag and Burn Clutch are one of a kind.
Anyone who has dug through a tote bag or rifled through a clutch for their fire will appreciate this handbag featuring a retractable lighter holster right on the side. Grab one in silver, metallic pink, patent leather black, or the conspicuous fan leaf print.
Tsubota Pearl Hard Edge Lighter
View this post on Instagram
Japanese brand Tsubota has been designing and manufacturing luxury smoking accessories since 1952. It's reimagining of the classic Zippo (which launched in 1933) hardens the original's rounded edges and plays with opacity and prints for a whimsical touch.
The Hard Edge Lighter comes in solid, transparent, and a few other colorways. Grab a Tsubota in cow print, the Latitude that features indented lines, or the Marble with tortoiseshell coloring. The brand also does collaborations. In 2021 Tsubota launched limited edition Hard Edge Lighters with Supreme.
Crab Claw lighter
Into silly maximalism more than classic lines? Then the Crab Claw lighter may interest you. Just over three inches long and on a keychain, this novelty lighter is built for travel. Just pull back the claw and watch out for the flames.
As with all novelty lighters, realize that kids might think this is a toy. Parents, grandparents, and aunties might opt to keep this one out of sight when little hands are near.
Houseplant Marble Car Lighter
View this post on Instagram
Celebrity-backed Houseplant has never been short on innovation, but this novel lighter might be more of a throwback. The Marble Car Lighter is a hefty box featuring a coiled lighter often seen in cars manufactured before 1995. Either colorway can be easily styled into many interior design styles.
The lighter mechanism brings back memories of that forbidden button in mom's car (at least for us older connoisseurs). Push it down, wait for it to heat, and apply the hot end to a joint or hemp wick. Though on the pricier end for lighters, the Marble Car Lighter is ideal for the design-forward stoner.
Tetra Slide Lighter
View this post on Instagram
Founded in 2015, Tetra's smoking accessories shop features upscale rolling papers, pipes, lighters, and ashtrays. They actually carry fellow list mates from Tsubota Pearl. But the standout on the site has to be the Slide Lighter.
Using technology reminiscent of knife hits, the Slide Lighter has a coil to light rollies with ease. Don't expect this one to cherry a bong or pipe without a hemp wick. The gadget looks like lipgloss until you push the cover to the side and reveal a heating coil. Grab it in one of four colorways, but don't forget the hemp wick.
Lovers Lock Lighter
View this post on Instagram
This may be one of the cuter cannabis accessories on the list. The Lovers Lock Lighter can be found through various retailers in different colorways. We prefer this option from Bespoke by Bloxham and not just because it emits a pink flame (though that helps).
Tiffany & Co Schlumberger 18K Gold Poodle
Ok, we said that the Houseplant Marble Car Lighter was expensive, but it is nothing compared to this antique poodle lighter listed for up to $20,000 online. A vintage jewelry ad from 1955 shows it originally retailed at $425. The lighter is made from 18 Karat gold and has ruby eyes. I'm not going to lie: the gemstone eyes look demonic.
Jean Schlumberger made for Tiffany & Co in 1950. Schlumberger is still regarded as one of the most talented jewelry makers, which could lend to the hefty price tag. But honestly, anyone who flexes with the Gold Poodle at the sesh should buy the munchies.
Lighting a bowl is a part of the ritual. Why not make it more fun? For your next sesh, spark up with a chili pepper or casually set a tabletop lighter to heat as you roll up. It could bring a touch of class to the smoke circle and will likely garner some compliments along the way.