Cannabis in the NBA: these players are pro-pot
American professional sports leagues continue to lift restrictions on cannabis. In April 2023, the National Basketball Association (NBA) came to a new Collective Bargaining Agreement (CSA), including new rules around cannabis and CBD.
The ratified agreement states that NBA players will no longer be drug tested for cannabis. Players can now also passively invest in cannabis and CBD endeavors. However, they will not be able to endorse cannabis products, which contradicts early reports of the CSA.
These updates don't come as a shock, as players claim that cannabis restriction didn't stop them from enjoying the plant. Al Harrington, a former NBA player who now owns a cannabis company called Viola Brands, commented on cannabis in the NBA to GreenState in an email.
"The consumption amongst NBA players is more common than people know. It's good for pain management as well as relaxing the muscles, and can be therapeutic to ease the mind."" Harrington shared.
RELATED: How CBD helped this former NBA all-star cope with PTSD and depression
The former pro baller continued, sharing that, like with most consumers, player consumption is both medical and recreational. The stars; they're just like us! Harrington also firmly stated that he does not believe the plant is used as a performance-enhancing drug (PED).
Harrington continues to be one of the most outspoken cannabis advocates among former NBA players, but he's not the only player known to partake. Since founding Viola Brands in 2011, Harrington has been pushing the dial on normalization, seeking fellow pro-athletes to speak on their consumption.
With that insight from an NBA player-turned-cannabis entrepreneur, let's look at what NBA players are pro-cannabis.
Allen Iverson
Twenty-six years ago, Allen Iverson shattered the record for most points scored in consecutive games, getting 40+ points in five games straight. His career is so accomplished that there's a Wikipedia page just for his achievements.
He reached these heights despite being persecuted for cannabis possession. In 1997, Iverson was a passenger in a car pulled over for speeding. Police searched the vehicle and found Iverson's gun and two pre-rolls– one under the seat and another in the back seat.
Allen Iverson entered a partnership with the Viola Brands in 2021. The pair released an Iverson-specific strain through Viola, currently available in nine states. In an interview with Benzinga to promote his partnership with Harrington, Iverson shared that his first day at college also marked the first time that he smoked weed. He stated that Harrington wasn't the first to approach him about a cannabis collaboration, but he was the most aligned with Iverson's goals.
"If I could share a joint with anyone, dead or alive, it would still be Al Harrington," Iverson told Benzinga. "He's been on me about weed for years and he's confident I'll be alright with the cannabis he shares with me, that it will be right for me. So I trust him; that makes me comfortable."
The first strain for the Iverson limited edition Viola collection is '96, a cross of Secret Kush Mints and Grape Stomper.
Matt Barnes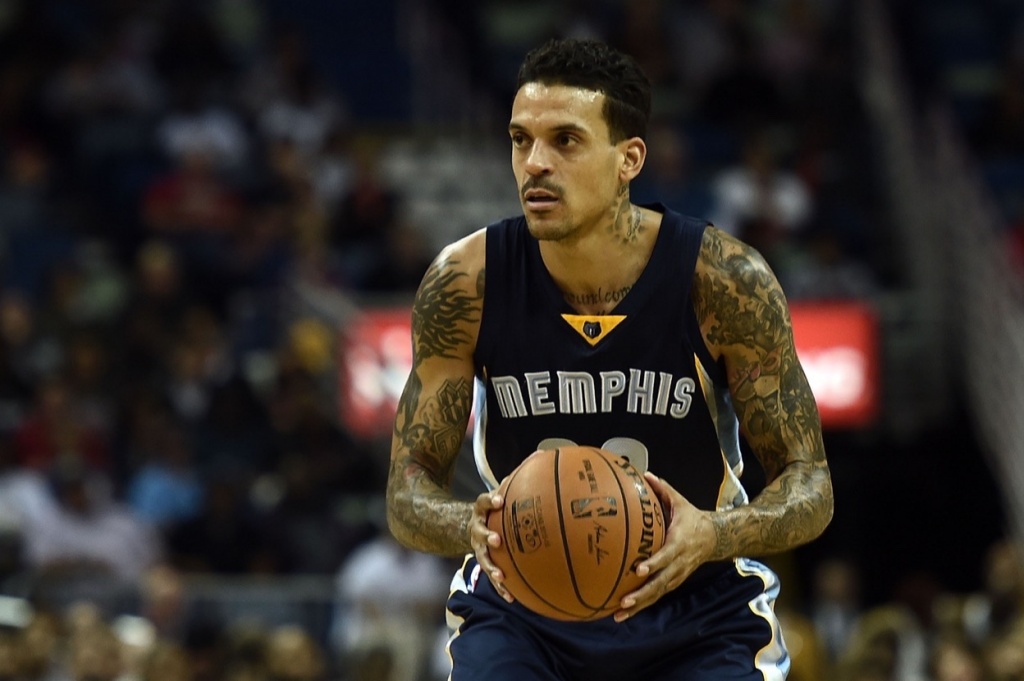 Matt Barnes has also thrown his jersey into the ring as an investor in Sacramento dispensary Seven Leaves and as an advisor for Eaze Momentum, an equity-driven cannabis incubator.
One year after winning his first championship alongside the Warriors in 2017, the Washington Post published Barnes' cannabis testimony. The article famously stated, "All my best games were medicated."
Barnes claims to have consumed cannabis before most, but not all, of the games he played in his 15-season run in the NBA. In his retirement, he has become an advocate for the plant by investing in the aforementioned businesses. He also co-hosts the podcast All the Smoke with Stephen Jackson. The former competitors talk news and drama from on and off the court and frequently have fellow pros on to talk about the plant.
Steve Nash
Speaking of All the Smoke, seven-time all-NBA selection and eight-time All-Star Steve Nash spoke on his cannabis consumption with Matt Barnes and Stephen Jackson in 2020. Nash shared that cannabis has improved the quality of his life. He uses the plant to sleep, and having more energy has made him a more present father.
RELATED: Gentle parenting and cannabis: a match made in heaven
"I was never a smoker, but indica really helps me sleep. I wasn't aware of it during my career since sleeping has always been an issue for me," Nash said in the podcast recording. "It would've helped me a lot to perform to have that sleeping agent that isn't as gnarly as the sleeping pills because they have a big impact on your body."
Watch the whole episode:
Lamelo Ball
Charlotte Hornets guard Lamelo Ball was a first-round NBA draft pick in 2020. He has sunk 456 three-pointers in his three-season career. The young athlete is known for taking bold shots. In his first season, Ball was named Rookie of the Year, followed by an All-Star selection in his sophomore season.
In 2022, a video of him smoking a blunt went viral when the plant was still prohibited, but players were not getting randomly drug tested.
LaMelo Ball smoking a blunt pic.twitter.com/34GgbFptTL

— Bacon, Grits, Eggs (@reddawg77089) April 13, 2022
This year has been more challenging for the 21-year-old, starting the season with a fractured ankle that removed the cornerstone player from the court for 46 of 82 games played by the team. Ball has not been in the cannabis news since the viral blunt toke.
Lebron James
While he isn't a cannabis advocate or known for lighting up, Lebron James shared in his book that he consumed cannabis in high school. In Shooting Stars, a memoir co-written with Buzz Bissinger, James shares that he first smoked cannabis with his high school teammates in an Akron, OH hotel room. He paints those years as stressful and out of control, where a talented young man was at the will of a media circus.
And though he isn't candid about cannabis consumption, he was seen celebrating a first quarter against the Hornets by lighting and passing around a fake joint with teammates a few years ago. So maybe he's lighting up in private— who's to say?
Kevin Durant
In his 15-season career, Durant was selected for the All-Star team 12 times. He was a star on the court, and now he's investing in the plant. As co-founder of venture capital firm 35 Ventures, Durant continues to believe in the industry. In 2021, 35 Ventures partnered with Weedmaps on a content partnership to normalize consumption.
One year later, Durant appeared in an interview with David Letterman and proclaimed he was high right then and there. In the interview, the All-Star plugged the Weedmaps partnership before going on to explain why he consumes.
"To me, it clears the distractions out of your brain a little bit. Settles you down. It's like having a glass of wine," Durant said. "I'm actually high right now."
Whether they speak on it or not, many NBA players consume cannabis. Before sports leagues started loosening restrictions, the concern was whether cannabis was a PED or not. But now that restrictions are lifted, perhaps it's time to shift focus to what good the plant can do for professional athletes.