The best CBN oil products to promote sleep
Check out the best CBN oils to potentially help you fall asleep, stay asleep, and boost your sleep health overall. 
We vetted these supplements on quality, efficiency, sourcing, and more, so you can rest assured they're the best in town.
Best CBN Oil in 2023
For a CBN Oil that potentially helps you fall asleep fast and stay that way, the overall top spot goes to CBDfx for this knock-out sleep tincture.
CBDfx uses CBN oil combined with broad-spectrum CBD — both of which have been thought to have a positive impact on sleep health — to create a tincture that promises to deliver fast-acting results without feeling groggy the next morning. 
But that's not all– 
Each serving also contains 5mg of melatonin, one of the world's most well-known natural sleep promoters. There's also a terpene complex added for even more potency. Hemp terpenes like linalool have documented relaxing effects, making them a fantastic addition to this impressive elixir. 
Pros:
Fast-acting and long-lasting

No grog the next day

Highly trusted brand

0% THC
What's inside: CBD oil, CBN oil, melatonin, terpene complex
Strength: 1000mg, 2000mg, or 4000mg 
Per serving: 33mg CBD, 5mg CBN, 5mg melatonin
What users say: We found 50 verified online reviews for this CBN oil product with an overall score of 4.9 out of 5. Users consistently mention how fast it works and how they're sleeping better through the night. 
We were blown away by the potency level we saw in the third-party lab reports for this CBN oil. The entourage effect is clearly in turbo mode. 
Extract Labs, as the name suggests, are experts in cannabinoid extraction. These scientists are also a full-blown laboratory, conducting testing and research on their products and cannabinoid supplements from across the industry.
Extract Labs has come up with this divine formula for sleep, using just their full-spectrum CBD distillate that naturally contains high levels of CBN.
Each serving offers a hefty dose of 30mg CBD and 10mg CBN. And Extract Labs only uses organically grown hemp, specifically chosen for its genetics. In this case, this hemp is super-abundant in CBN, and it's helping people across the country possibly get more Zzz's in.
Pros:
Made with potent CBD distillate

Verified full spectrum

Organic ingredients

Made by cannabis extraction experts
What's inside: Full-spectrum hemp oil, organic fractionated coconut oil
Strength: 1200mg
Per serving: 10mg CBN, 30mg CBD
What users say: The overall review score for the CBN PM formula currently stands at 4.6 out of 5. Users note a variety of improvements in their sleep health, like falling asleep faster and feeling more relaxed.
Brought to you by a company dedicated to all things sleep, this CBN tincture is perfect for beginners thanks to its moderate strength level and great flavor. 
For those who have not tried CBN before and therefore don't yet know how it will affect them, we recommend this tincture by Slumber Sleep Aid. Other products on our list contain CBD, which is great, but cannabinoids impact people differently. For many Slumber Sleep Aid loyalists, CBN has been the best answer for sleep.
There is 0% THC and 0% CBD in these tinctures — just pure CBN oil, organic MCT, and hemp terpenes. 
The scientists at Slumber Sleep Aid have done heavy research and experimentation to reach this particular formula. They even brought in a third party to conduct a sleep study on how effective it is.
And the results are in: these CBN tinctures offer natural relief for the sleep-challenged. 
Pros:
0% THC

Soothing terpenes

Pure CBN oil

Tasty dreamsicle flavor
What's inside: Organic MCT Oil, CBN, Linalool, Beta-Caryophyllene, Natural Flavoring
Strength: 150mg, 300mg, 600mg
Per serving: 10mg or 20mg CBN per serving
What users say: Slumber Sleep Aid's CBN tincture currently sits at 4.5 of 5, based on 128 reviews. The overall review consensus points to efficiency, with CBN newbies experiencing relief they haven't felt in years.
Don't let the simple organic ingredients fool you; these CBN oil drops taste great. And they work even better for a delicious night of rest.  
FOCL's CBN Sleep Drops rank high on our list for their potent effect, but we also consider them the best-tasting CBN oil option on our list. No crazy flavor profiles, just a bit of stevia, organic lavender, and peppermint make them easy to knock back.
FOCL gives you a pretty strong dosage level here, with 33mg CBD and 6mg CBN oil in each serving. According to reviews, most people need just one serving to sleep the night away peacefully. Those with serious sleep problems may need to take it up to two servings. Either way, FOCL is the best for great-tasting relief. 
Pros:
Choose full-spectrum or broad-spectrum

Organic hemp extract

Potent dosage

Naturally pleasant taste
What's inside: CBD oil, CBN oil, organic MCT oil, lavender, peppermint
Strength: 1000mg
Per serving: 33mg CBD, 6mg CBN oil
What users say: Like us, users love the slightly sweet, minty fresh taste of these CBN oil drops. The user rating currently sits at 4.6 of 5 stars, and many customers remark on how they've tried other natural sleep oils before with no success until this one. 
When it's anxiety that's keeping you up at night, take the best CBN elixir out there to eliminate your 'scaries' and rest easy.
Sunday Scaries is a top-choice cannabinoid supplement brand dedicated to potentially aiding in anxiety relief. It all started with using CBD gummies to ease the apprehension for the week ahead and get a good night's sleep. Now, Sunday Scaries is a highly trusted and award-winning company with natural hemp extracts for relaxation.
Their Big Spoon Sleep Oil almost won out in the potency category as well as this one. There are an almost dizzying amount of natural sleep aids in here: CBN oil, CBD, 5-HTP, GABA, and more. Yes, more. All of these work together in this award-winning potion that's a favorite among the party people, the stress cases, and everyone in between. 
Pros:
Award-winning

Amazing reviews 

Powerful ingredients

Tastes great
What's inside: CBD oil, CBN oil, 5-HTP, valerian root, chamomile, l-theanine, GABA, lemon balm extract
Strength: 1000mg
Per serving: 25mg CBD, 8.3mg CBN
What users say: Sunday Scaries is one of the best-reviewed CBN oils we came across, and it consistently sells out on their site. The current review score online is 4.8 of 5 stars, based on 242 testimonials. 
Nothing stands in the way of your sleep like a throbbing headache or an aching back. When it's a pain that's at your door, Zatural has the solution to get the rest you need. 
This CBD + CBN tincture has a higher dosage level, so for most people, it's enough to knock out pain and put you to sleep in one go.
This particular cannabinoid extract contains 0% THC, making it a great option as well for people who are concerned about drug testing. However, it should be noted that people who are subject to drug testing should proceed with caution with any hemp product.
Zatural's impeccable hemp sourcing and clean processes render potent extract that doesn't need the extra bells and whistles. That's another reason we love this tincture: just CBN, CBD, and MCT oil. When the extract is this powerful, that's all you need.
Pros:
0% THC

Extra-strength dosage

Great value

Great for power users and families
What's inside: CBD isolate, CBN isolate, MCT oil
Strength: 2750mg
Per serving: 20mg CBD, 5mg CBN
What users say: User testimonials all point to efficiency, and we were unable to find evidence of a verified user not sleeping well with this CBD + CBN tincture.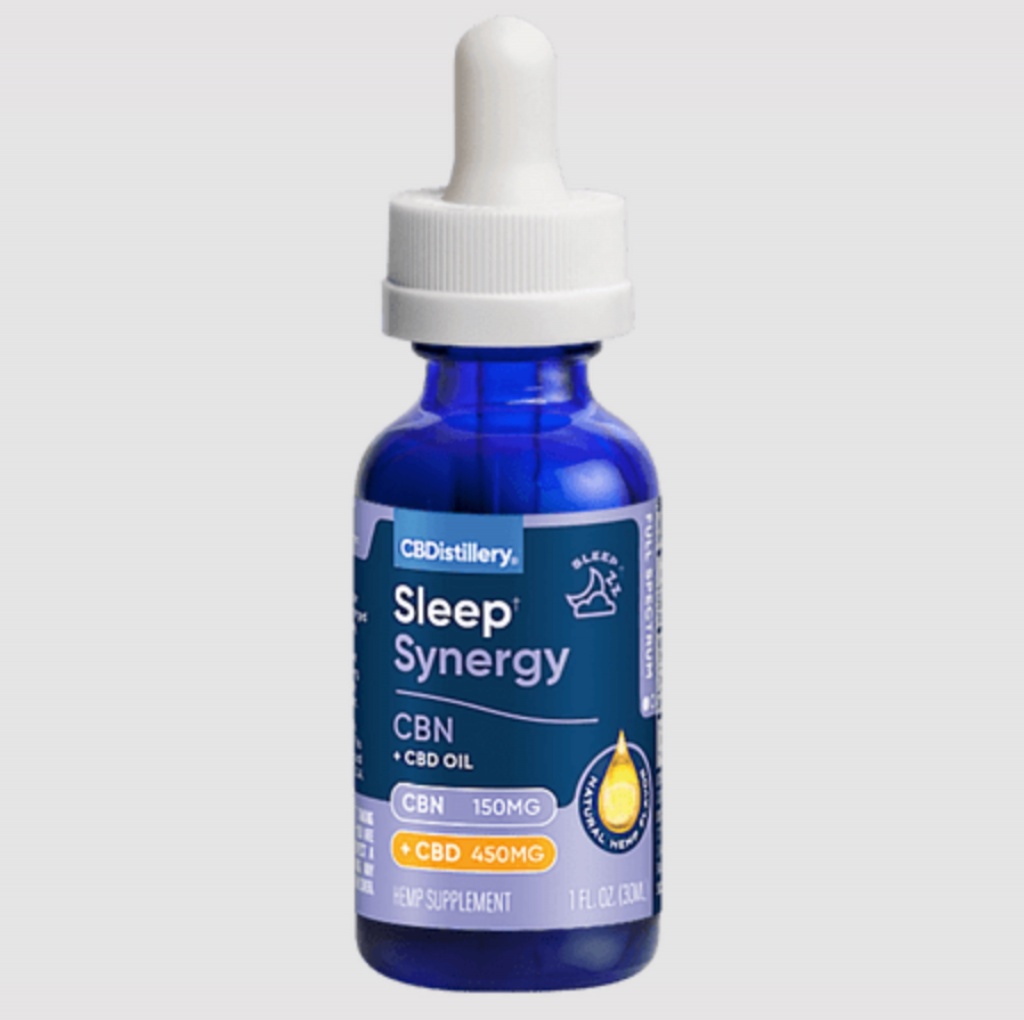 All the CBN oils on our list have great user reviews, but CBDistillery's Sleep Synergy comes out on top when it comes to customer satisfaction. 
If we go by the numbers, the most satisfied customers for CBN sleep oil belong to CBDfx. Their Sleep Synergy formula does the trick, with people from all walks of life and with all kinds of sleep-related issues finding relief.
CBDistillery is an old-school CBD brand out of Colorado that helped pioneer a lot of the more common CBD products you see today. They are constantly researching and evolving, hence their CBD + CBN combo for deep sleep. 
Sleep Synergy is moderately dosed but backed by CBDistillery's local hemp farms that specialize in potent cannabinoid genetics. Just a few nights, and you'll be a believer.
Pros:
Full-spectrum CBN oil

Vegan

Great taste

Deep sleep 
What's inside: Full spectrum CBD, CBN oil, MCT oil, terpenes
Strength: 600mg
Per serving: 15mg CBD, 5mg CBN
What users say: The Sleep Synergy tinctures currently enjoy a perfect score– all verified user reviews we looked at were five stars. Of note were the many testimonials that referenced being able to get deeper sleep with just one serving per night. 
For the chronically sleep-deprived, a small concentration of CBN oil simply won't do the trick. To get the most relief and the most value, go with Wild Theory's CBN Stellar.
Wild Theory offers the highest dosage of CBN oil on our list. It's also a great value, available in 6000mg concentrations, and you can save even more by buying in bulk. 
This sleep-inducing oil is loaded with more cannabinoids than CBN and CBD, but it's a broad-spectrum product, meaning 0% THC.
One of the big issues for people with chronic sleeplessness is restoring the ever-important sleep cycle. Wild Theory CBN oil helps big time in this department, and may help people get back into their circadian rhythm naturally after a few nights' use. 
Pros:
Great for insomniacs

0% THC

Helps promote healthy sleep cycles

Great value for the price
What's inside: Broad spectrum CBD, CBN oil, terpenes, hemp seed oil
Strength: 3000mg, 6000mg
Per serving: 33.3mg CBD, 16.7mg CBN
What users say: Wild Theory's customers love the value and potency they get in each serving of their CBN Stellar oil, the highest dosage level on our list. 
How We Picked the Best CBN Oils
We looked at a few factors when determining which CBN oils would make our list, including reviews, lab testing, and ingredients. Our team worked diligently to source the top products on the market.
Sourcing
We only selected CBN sourced from domestically grown hemp. Furthermore, we required verification for natural, sustainable cultivation processes like foregoing pesticides. Organic operations received higher rankings. 
Verified reviews
Because CBN affects people differently, we took a good look at verified online reviews for each product in question. We only selected high-scoring CBN oils with a consensus of efficiency for improving sleep health.
Lab tests
Not only did we require that each CBN oil product comes with a current Certificate of Analysis, but we also took a look at every third-party lab test. Each CBN oil was required to have a comprehensive contaminants panel, showing it to be free of pesticides, heavy metals, residual solvents, and bacteria. Next up, we checked the cannabinoid profile to verify potency and see what wonderful cannabinoids and terpenes were present in the extract. 
All-natural ingredients
Finally, we only included CBN oil products that contain 100% all-natural ingredients. CBN oils with certified-organic ingredients earned higher consideration on the list. 
What Is CBN?
CBN — aka cannabinol — is a minor cannabinoid found naturally in the cannabis sativa plant that acts upon the endocannabinoid system to provide support for the body and mind.
Like CBD oil, CBN oil is extracted from the hemp plant material and combined with carrier oil for superior absorption. 
The potential benefits of CBN include sleep improvement, pain relief, and anti-inflammatory action. 
New research also suggests that CBN is a natural neuroprotectant, making it potentially beneficial for brain health and a potential treatment for neurodegenerative disorders. 
Like CBD, CBN does not produce psychotropic effects for most people, meaning it will not generally get you high (although some individuals may feel stronger effects).
Negative side effects from CBN are virtually non-existent, with the primary reported one being drowsiness (which is why people take it in the first place). 
CBN vs. CBD: What's the Difference?
CBN and CBD are both cannabinoids found in the cannabis plant that provide similar potential benefits. 
For example, both are verified by scientific studies to be natural anti-inflammatories. They're both used to potentially support pain relief and sleep health. 
So, what's the difference?
Here are the basic differences between CBN and CBD:
CBN and CBD each have a distinct chemical and molecular structure.

While CBD is known for a wide variety of applications, most people use CBN for sleep.

More rigorous study has been done on CBD than CBN in the scientific/medical community. 

There are substantially more CBD products available than CBN products.

Whereas CBD is popular by itself, the majority of CBN oil products contain added CBD.

Less CBN is needed to achieve a sedative effect. For example, you'll see on our list that pure CBN products usually contain 10mg or less per serving. Whereas with CBD, the average dosing is 20mg or more per serving. 
FAQs: 
Is CBN legal?
The 2018 Farm Bill effectively removed non-psychotropic hemp products from the Controlled Substances List. Technically, all hemp products with 0.3% or less THC by dry weight are considered legal at the federal level. That includes CBN oil. However, state laws on the legality and regulation of cannabinoids are wildly evolving. 
Check out what the rules are in your state for cannabis products to find out more. Also, legit CBN companies will never ship to a state where legality is in question.
Will CBN make me high?
CBN has a relaxing effect and can feel like a sedative (which is why it's such a great sleep aid). However, CBN oil does not have psychotropic effects for most people and will not generally get you high.
Can I take CBN every day?
While the science of CBN is in its infancy, there's no evidence to suggest that you cannot take CBN every day. Like CBD, CBN is non-habit forming and should not cause physical addiction. 
Review Wrap-Up
CBN oil is a great alternative to OTC medication for sleep problems like falling asleep, staying asleep, and maintaining a healthy sleep cycle. 
In our search, we scoured the market for the best CBN oils for all sleep-related issues. Our list was based on quality, transparency, efficiency, and customer satisfaction. As cannabinoid nerds, we are confident these represent perhaps the best of the best for sale online today. 
Whether you have chronic insomnia or you're new to cannabis in general, there are plenty of CBN products for sleep that may help you get a better night's rest.