SF mayor tells 4/20 crowds to stay away. But the cannabis party is going online instead
People light up at 4:20 p.m. at the 420 Hippie Hill celebration in Golden Gate Park on April 20, 2018. That was the first celebration with legal recreational marijuana use in California. Photo: Jana Asenbrennerova, Special to The Chronicle
San Francisco Mayor London Breed has cleared the air and laid down the law over 4/20, the international cannabis holiday that was scheduled to be celebrated in Golden Gate Park on Monday, April 20.
If you're planning on coming to San Francisco, don't.
"We will not tolerate anybody coming to San Francisco for 4/20," Breed said Monday, April 13, at a City Hall media briefing addressing the coronavirus pandemic that has forced the cancellation of large events like 420 Hippie Hill and San Francisco Pride this year. "It is not safe to gather in larger groups of people, in Golden Gate Park or anywhere else."
To be clear: 4/20 will not be tolerated this year. Do not come to San Francisco to celebrate. We will cite people. We will arrest people if necessary. Order food. Watch Netflix. Stay home and stay safe. pic.twitter.com/4w2T9XJrej  — London Breed (@LondonBreed) April 13, 2020
Breed added there will barricades and strict enforcement (citations and arrests, if necessary) around the park's Hippie Hill and Robin Williams Meadow, the sites of celebrations that typically attract about 15,000 people from all over the globe.
And the outbreak isn't just shutting down public puffing and passing in the Bay Area. Cannabis meccas like Denver, Vancouver and Toronto have also been forced to cancel 420 celebrations.
But that doesn't mean this year's 4/20 is snuffed out. As with most everything these days — from work meetings held on Zoom to "Saturday Night Live" performed via video streams — major 4/20 events will be virtual this year, featuring activism and simultaneous smoke sessions featuring music, comedy, and culinary and cannabis luminaries streaming from remote locations.
Instead of good vibes stoked by cannabis, these free, online-only events aim to promote fundraisers and organizations working to mitigate the devastating financial effects of the coronavirus pandemic.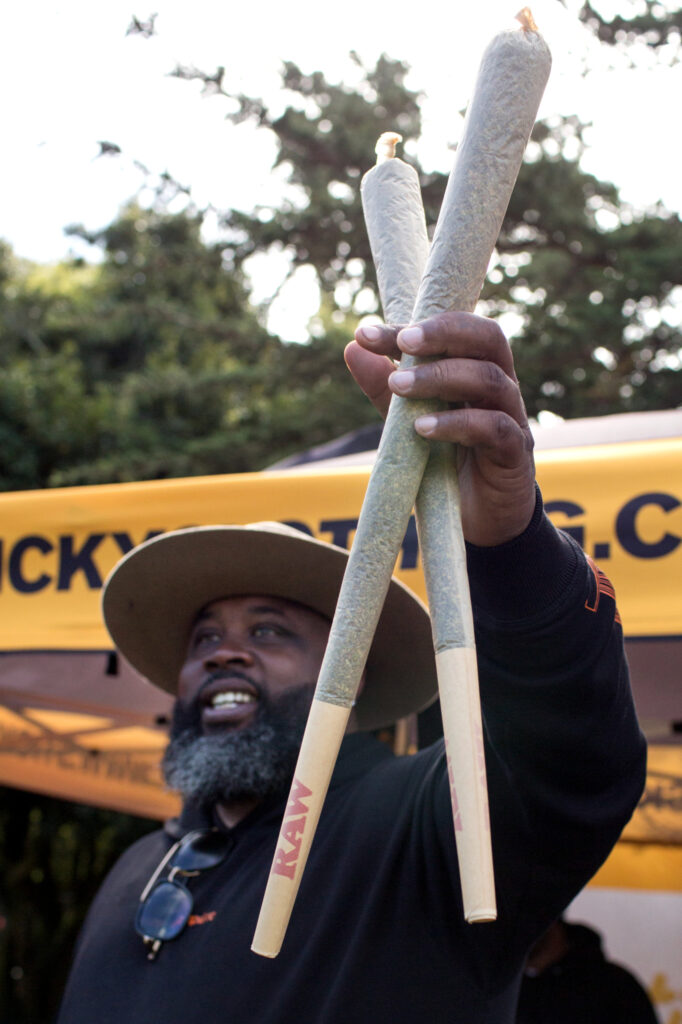 "The foundational idea of celebrating 420 is smoking cannabis together, separately, at both 4:20 every day and on 4/20 every year," said East Bay cannabis activist Debby Goldsberry, owner of Magnolia Wellness and Hi Fidelity dispensaries. "4/20 is also a day to give back to COVID first responders."
Goldsberry helped organize "The Great American Sesh In," a five-hour cannabis telethon benefiting coronavirus first responders that features headliners B-Real of the rap group Cypress Hill and comedian/musician Tommy Chong, among others. She said continuing to celebrate 4/20 is imperative this year.
"Cannabis consumers are generally social people, and they are also online in large numbers," Goldsberry said. "This is our first big chance to really be together, having a shared experience, even though we are separate and at home. It's going to be a great chance to pause our worries and anxieties, and instead, enjoy the spirit and resilience of this community."
In addition to promoting donations to Direct Relief, a charity that provides essential protective equipment to health workers, the event encourages cannabis consumers to order online, easing in-store congestion on the essential industry's busiest shopping day of the year.
"We want consumers to shop early, and stay home to celebrate and donate," Goldsberry said.
Based on programming that was planned for the now-canceled fifth annual National Cannabis Festival in Washington, D.C., the Highstream 420 Festival is another virtual benefit event planned for Monday, this time for Crew Nation, a relief fund established by Live Nation, the country's largest events promoter and venue operator.
The six-hour event is expected to feature live-streamed music by cannabis culture icons like San Francisco rapper Berner and Grammy-winning rock artist Melissa Etheridge; comedy performances; panel discussions on criminal reform and veterans issues; chats with entertainers and industry figures; and instructional sessions on cannabis growing and cannabis cooking.
"Not only will viewers enjoy free entertainment on 4/20," said Caroline Phillips, president of the National Cannabis Festival, "but they'll have the chance to donate to our partners, all while staying home and staying safe."
Berner, the entrepreneur behind popular Cookies brand cannabis, dispensaries and streetwear, is also set to participate in a live-streamed event called Higher Together, a music-comedy smoke sesh presented by dispensary directory Weedmaps to benefit the Last Prisoner Project. He joins the bill along with rapper Wiz Khalifa and country singer Billy Ray Cyrus.
High Times' Virtual 4/20, yet another event planned for the counterculture holiday, is scheduled to have live streams of workshops, cooking classes and e-sports events from homes and studios around the world featuring something dearly missed in these socially distanced times: intimacy.
"The idea is really about connection," said High Times spokesman Jon Cappetta.
In San Francisco, Urbana dispensaries in Bernal Heights and the Richmond District will also live-stream DJ sets, panels and more starting Friday, April 17.
While production values and technology platforms will vary by event, those participating in the virtual festivals will abide by social-distancing protocols to avoid further spread of COVID-19.
"All live content will be produced wherever the talent happens to be," said Jim Lewi of Red Light Management, the Emerald Cup's production partner. "We are not asking anyone to break shelter in place."
With typical 4/20 plans canceled, Berner — whose joint album with B-Real comes out Friday — said he hopes everyone can still make the best of the holiday.
"Whether it's on FaceTime with the homies, (Instagram) Live or another platform," Berner said, "the point is, the herb will still find a way to connect us like it always has."
Virtual 4/20 events
Urbana 420 House Party: Friday-Monday, April 17-20. Check urbananow.com for schedule and access information.
The Great American Sesh: Noon-5 p.m. Monday, at Twitch.TV/TheGreatAmericanSeshIn. For more information, go to www.thegreatamericanseshin.com.
High Times' Virtual 4/20: Noon-8 p.m. Monday. www.hightimes.com
Higher Together: Noon-5 p.m. Monday. www.weedmaps.com/420
Highstream 420 Festival: 1-7 p.m. Monday. www.highstreamtv.com
A heartfelt message from the Ambassador of the Bay Area, @E40.
Don't gather for 4/20. Stay home, stay safe. Protect your family and your community. pic.twitter.com/MWHAIVpJeG
— London Breed (@LondonBreed) April 17, 2020