CBD Oil vs Treats for Dogs

Hearst Newspapers participates in various affiliate marketing programs, which means we may earn a commission when you purchase products featured in this content or purchase from vendors featured here. Our professional curators independently research and recommend products and services, with no newsroom involvement. Merchants can pay for a sponsored listing and may choose to rewrite their summary. When that happens, we label the listing as "Sponsored" and highlight it in grey to differentiate the merchant-provided content from our writing.
You've probably heard about the hype on how CBD for dogs can potentially aid dogs in many ways, just like it does for humans. From potentially supporting pain management, inflammation, and even allergies, cannabidiol has recently been treated as an ally to dogs all around the US.
That said, owners might feel intimidated between choosing oil or treats to give their dogs, especially if they've never taken hemp at all. This is why we've gathered the most important insights you have to know when talking about CBD, dogs, and the two most popular ways of giving them this cannabinoid: oil and treats.
So if you want to know the outcome of CBD oil vs treats for dogs, you can explore in the article below how they work, the differences between both methods, how much CBD to give your pup, and of course, some of our favorite products.
Key Takeaways
CBD oil for dogs is basically a cannabidiol extract that has no other products but  carrier oil and dog-safe ingredients.

You can also try CBD chews to give to your dog if you feel like they are going to be more welcome to try CBD that way.

Cannabidiol is generally safe to use with pups. Just make sure to check the other ingredients of the product.

CBD can potentially aid your dog in many ways, including aiding with joint pain, anxiety, stress, and even epilepsy.
A Quick Look at the Best CBD Oil and Treats for Dogs
What is CBD Oil For Dogs?
Let's break down this question into two parts. First, let's tackle CBD. Cannabidiol (CBD) is a naturally occurring compound in hemp. It's minimally psychoactive, and interacts with the endocannabinoid system, which is part of the nervous network.
Now, let's talk about the oil and dog part. CBD can be processed into an extract used in a dog-safe carrier oil. But let's explore how that works for our furry friends.
How CBD Oil Works for Dogs
CBD oil dog treats work similarly to how CBD works for us. It interacts with the endocannabinoid system, which is responsible for regulating some bodily functions like appetite, pain, and mood. By aiding this part of the nervous system, it can help with inflammation and other symptoms.
How To Give CBD Oil To Your Dog
Giving CBD oil dog treats to your furry friend is no rocket science. You can either have a few drops in your buddy's mouth or gently mix it with their kibble or food. Make sure to follow the instructions on the packaging and always start with a small amount to see how your dog reacts first.
Is CBD Oil Safe for Dogs?
Yes, CBD oil, in general, is safe for use in canine friends. We'll talk about this further down in the article, but just make sure that the ingredients are dog-safe and follow the dosing instructions accordingly.
What are CBD Soft Chews for Dogs?
To put it simply, these are dog-safe products that are infused with CBD oil. Some owners prefer this method as it can help them "disguise" the herbal taste while making it easier for the pup to consume the cannabidiol.
These come in all shapes and sizes, from small bone-shaped treats to bacon nuggets that your dog will probably want a bite or two from. Basically, these products are chewable and turn CBD into an enrichment experience.
You can find these in different formulas as well, but most of them will have broad-spectrum, or CBD isolate. Cannabidiol extracts can be sorted out in three types of formulas in general:
Full Spectrum:

Has THC traces and other cannabinoids.

Broad Spectrum:

No THC traces, has other cannabinoids.

CBD Isolate:

This extract only has pure CBD.
When looking at CBD chews, we'd go for broad spectrum and CBD isolates, but make sure to check on this with your veterinarian before giving your pup a hemp-based treat.
How CBD Soft Chews Work for Dogs
Thinking of giving your pup some dog CBD but need to know how it works? We've got you covered. CBD for dogs just tells their nervous system to calm down and stop freaking out, while also regulating the "danger" signals of their body. It's like giving them a virtual pat on the back and saying, "hey, it's all good"
Now, you might be wondering what's better, CBD oil vs treats for dogs. Well, it depends on your puppy's preferences and the method you'd prefer to take. If they're a fussy eater, CBD oil might be a pain to give them, and adding it to food can make your dog suspicious.
But as far as CBD treats are concerned, these bad boys come in many different flavors that your dog will probably prefer, like bacon and peanut butter. They're like a snack and medicine rolled into one, which makes things easier for you and your pup to eat.
The best part is that CBD treats may be just as effective as CBD oil. They're designed to provide the same benefits, such as relieving pain and anxiety. So, whether you're team oil or treats, CBD will be as effective. Just make sure you're getting a safe and top-quality product for your fur baby, and triple-check that the ingredient list is safe for them because, let's face it, they deserve nothing but the best.
How to Give Your Dog CBD Treats
Okay, so you're sold on the benefits of CBD for dogs. But how do you get your fur baby to actually take it? Many CBD treats come in flavors that dogs love, like bacon, peanut butter, salmon, and even meat. Yum!
But before you go crazy and start feeding your doggo CBD treats like candy, talk to your vet first. They can help you figure out the right dosage based on your dog's body weight and whether or not CBD is even a good choice for them, especially if your furry companion has arthritis or other chronic condition.
Once you've got the go-ahead from your vet, you can start giving your dog CBD treats as part of their playtime routine. Break the chews up and add them to their food, or give them small pieces to try out. 
Just make sure you're not treating the CBD for dogs like medicine, or your pup might start to think they're getting something gross instead of something tasty. We don't want that as that could condition them to stop liking treats, so try keeping it like an enrichment activity as you'd do with other chews.
Is It Safe to Give Dogs CBD Treats?
Generally speaking, yes, CBD dog treats are safe to give to your dogs. However, when choosing CBD for your dog, it's essential to check the ingredients. Remember, less is more because some additives might mess with our pups. A few brands out there use colorants, additives, and other things like artificial flavors that are safe for humans but not for pups.
Keep in mind that the dose you give to your doggo can definitely impact how effective it can be. Some bigger breeds or dogs, in general, might require a heftier CBD potency, while others might be better off with a more petite treat.
Before giving your pup any CBD, make sure to ask your vet if it's a good idea. And whatever you do, don't give them your human CBD oil. It could have stuff like THC or other cannabinoids that won't have the same effect on them as it does on you, including chemicals like additives or colorants.
5 Ways CBD May Help Your Dog
We've covered the differences between CBD oil and treats for dogs, but how can they actually help our dog companions? Most users seek out CBD to deal with some problems, like joint pain, epilepsy, seizures, or even allergies. Let's have a quick look at some of these potential ways CBD can help your pooch.
Dogs With Joint Problems
First up, is joint support. As our fur babies age, they may start feeling the aches and pains that come with joint problems, putting a serious damper on their fetch game. But, CBD could have a solution for this. 
With the potential to provide some relief for dogs with osteoarthritis, which can cause some gnarly joint pain, CBD is like the doggy equivalent of a hot bath and a massage. According to this 2014 study, cannabidiol might be able to improve their comfort levels, meaning they can get back to zooming around the park or at least get some needed rest at their age.
Dogs with Anxiety
Another great benefit of dog CBD is aiding with certain anxiety symptoms. Dogs can get just as stressed out as humans. Their stress might not be related to issues in their 9-5 or a cheating spouse, but it's stress nonetheless. CBD dog treats can help calm them down by reducing stress signals in their bodies. So next time your pup is feeling anxious, break out the treats and let them chow down.
Dogs With Seizures And Epilepsy
Dogs with epilepsy and seizures can also potentially benefit from CBD dog treats. While more research is needed, early studies suggest CBD can reduce seizure frequency in epileptic dogs. Plus, by helping them relax, dogs with these conditions can feel supported with CBD as a complementary part of their treatment.
Dogs In Pain
Generally speaking, CBD has the potential to aid with pain thanks to its pharmacological characteristics. Cannabidiol is a sedative and analgesic agent that can potentially support pain management. Studies like this one showed progress in helping an all-natural alternative to aid with pain management in canine populations.
Dogs With Allergies
Now, remember how we talked about CBD being an anti-inflammatory agent? When dogs have allergies, most reactions are due to histamine released into their bodies. This study suggests that cannabidiol could act as a suppressant of mast cells. 
In simpler terms, it means it could potentially prevent histamine from being released, which is even better than just giving your pup anti-allergic medicine. Furthermore, this could help your dog with topical inflammation like bug bites or generally if they feel queasy or tired due to allergens acting up.
CBD Oil vs CBD Treats for Dogs: Which Is Better?
This debate comes down to which one is better for your own dogs and how they react to CBD. Some dogs won't have any trouble having some dog CBD oil in their kibble, while others will be a little too suspicious of the taste.
CBD oil is quicker to absorb, but in general, it can be a little difficult to get your dog to eat it all if used on their food, or it can be messy if you try to squirt the oil directly on their mouth. Treats are a lot friendlier with both your dog and the general dynamic, but they can take their time to work.
Our recommendation is that after getting a clear green light from your vet, try whichever adapts to your lifestyle first. Or if you can go for it, we'd have both for chronic pain or cases that might need a stronger solution. You can also learn more about cannabidiol and its effects on dogs in the following video.
Best CBD Oils and Treats for Dogs
We've gathered some of the best CBD oils and treats your pooch will love. From clean, innovative brands, to dog-specific ones, you'll probably find one product that fits what you are looking for.
If you like high-quality and prefer brands that focus on wellness, you'll love Fab CBD. This brand creates hemp-based products that have the utmost care to help you get balance. 
Features
Their CBD Dogs Treats come in a resealable 9 oz pouch with a tasty apple and peanut butter natural flavor. These do not have any corn, wheat, soy, or dairy, and are made with all-natural ingredients. 
Pros
Incredible flavor and ingredients

Vegan, organic, and no extra flavorings

Amazing price point

No THC whatsoever
Cons
Does not mention CBD quantities per treat
Green Road is an incredible hemp brand that focuses on wellness products to help you regain your balance with easy-to-understand products and branding. Their Small Dog & Cat CBD Pet Drops is the perfect example of great quality products at an affordable price.
Features
This tincture has small breeds in mind, with a 60mg CBD potency for its 30ml in a dropper bottle. The CBD oil is independently lab tested with a pharmacist-formulated extract. It has no artificial flavors, is gluten-free, and has no additives.
Pros
Clean formula with no additives or colorants

Perfect for small breeds

Has no flavor, which is perfect for mixing it with food

Easy for pets to digest
Cons
Nu Leaf Naturals is a very high-quality, clean brand that focuses on top-shelf, almost holistic products to help your doggos out. Their Pet CBD Oil could help them regain their quality of life as well.
Features
This CBD tincture comes in 3 different CBD potencies, 300mg, 900mg, and 1800mg. So don't worry about having to look for other products, as you can buy them all from Nu Leaf at the same top-shelf quality. These are made with organic hemp and have a full spectrum formula with other cannabinoids like CBC, CBG, and even CBN.
Pros
Available in multiple potencies

No flavor makes them perfect for mixing with food

Very high dosage, perfect for all breeds

No additives, artificial flavors or additives
Cons
If you want to try a clean and all-natural brand with quality ingrained in its roots, you'll love Leef hemp products. And for dog treats, they collaborate with another brand called Paleo Paw for a puppy-safe CBD treat that your furry friend will love.
Features
The CBD Dog Treats by Paleo Paw are packed with nutrients, specifically Omega-3, Enzymes, and Aminos. The 6oz bag comes with 2mg of their high-quality CBD extract each. These treats are perfect to complement your dog's diet with fiber, thanks to their chia and flax seed mix as well.
Pros
Made with all-natural, local ingredients

Delicious pumpkin flavor

Filled with nutrients and superfoods, like flax seed and Omega-3s

Excellent quality at an affordable price
Cons
CBD dose is on the low side
Joy Pets is one of the pet-inclusive hemp brands out there that really comes out with high-quality products. We love that all of their treats have third-party lab results and only get the best ingredients, so we'll bet you'll love their treats.
Features
Their JoyPets CBD Dog Treats have a total of 100mg of CBD and come in a 5.29oz jar. These have a really tasty beef taste, contain 0% THC, and have that classic treat look, so your doggy won't notice the difference. 
Pros
Pet-dedicated hemp brand will ensure it has dog-safe ingredients

Excellent price for CBD dosage

A good starting point for small and medium breeds
Cons
Includes some additional additives
Avis is a high-quality brand that creates wellness-focused CBD products that are made to improve your quality of life. Their CBD Pet oil is definitely a clear example of their hard work and impressive quality.
Features
Their locally grown, organic formula comes in a 30ml dropper bottle. Each tincture has 300mg of CBD full spectrum hemp-derived extract. With a delicious bacon flavoring, these will work great with dogs of all sizes, specifically from mid to heavy breeds.
Pros
30 servings per dropper bottle

Third-party lab tested

Only 3 ingredients in the tincture

High dosage for bigger dogs
Cons
Smaller breeds might get knocked out at this strength.
If you are into the hemp scene, you'll probably know CBDFx. This huge brand has brought up wellness and innovation together with its hemp products, and if you've been a follower, you'll love their Pet CBD Oil.
Features
This tincture is perfect for most furry buddies. They have 250mg of premium CBD extract in a broad-spectrum formula. The tincture is vegan, has curcumin as a complement to the cannabinoids, and has a delicious bacon flavor. 
Pros
Vegan and has superfoods like circumin

Bacon flavor is always a win in doggies' book

Great price point for strength

Broad spectrum formula
Cons
Some dogs might not like artificial bacon flavor
On this list, we've got another product from the wellness hemp brand, Green Roads. This time, we are going to talk about their iconic CBD Drops Dog Formula Large Dogs.
Features
This 30 ml CBD tincture contains a hefty dose of 600mg per bottle. While it might seem like a little on the expensive side, these could actually affect a regular-sized human at a normal dose. The CBD Oil has no artificial colors, or flavors, and is fully vegan and gluten-free.
Pros
High CBD dosage, perfect for large breeds (over 50 lbs)

No additives, ingredients, flavors, or anything else

Independently lab-tested to ensure quality

Perfect for chronic pain
Cons
A little on the pricey side, but perfect for large dogs
Since 2015, Pinnacle Hemp has innovated with healthier CBD products with the greatest attention to detail in each of them. If you like local, family-owned businesses, you'll probably want to check their Pet CBD Oil out.
Features
The all-natural oil comes in a Full Spectrum formula, with different strength options from 120mg, 240mg, and up to 480mg. These tinctures are easy to use with a special nozzle for your furry bud, and only use salmon and MCT oil. You can get these at different prices depending on the strength.
Pros
Easy to use with a special nozzle

Different CBD potencies available

Uses salmon oil that is full of Omega 3s and fatty acids

Has a subscription option
Cons
Not all dogs will like CBD tinctures over a treat.
We love fun and innovative brands, and Not Pot is slowly winning us over. As a vegan, clinical-strength, gluten-free dispensary, they carry incredible quality products like their Pet CBD Oil.
Features
This CBD tincture contains 1000mg from a broad-spectrum hemp-derived formula with an easy-to-use dropper. Each tincture comes in a 30ml bottle, made with only the extract and Alaskan Salmon Oil for better fur coats, healthier hairs, and joint mobility. 
Pros
Excellent quality and price

Strongest dose from the list

Lots of Omegas to nurture your pooch

Broad Spectrum formula with zero THC
Cons
Might be too strong for small and medium breeds
Conclusion
CBD for dogs can be an all-natural alternative for many pups that need extra support with their day-to-day activities. From potentially aiding with pain management to helping with allergies, CBD in both oil and treat form are great ways to walk your dog into the hemp space.
Remember to check your product for dog-safe ingredients, start with small doses, and always check first with your vet if your pooch is a candidate to take CBD.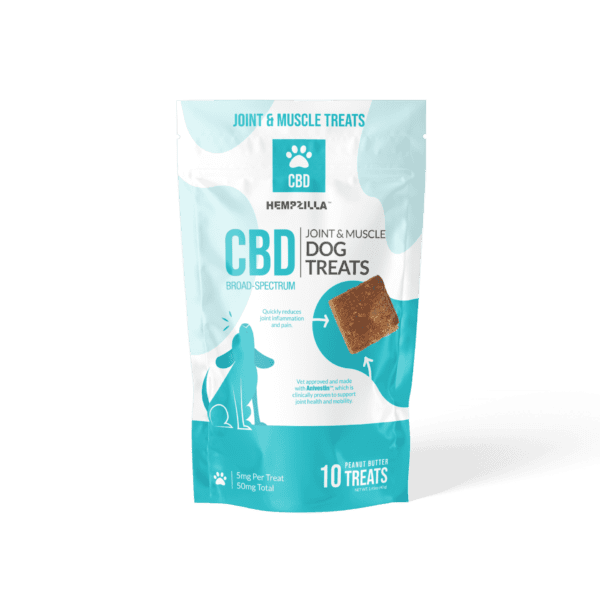 Hempzilla CBD Joint & Muscle Dog Treats - 5mg Per Treat
$19.99 in stock
as of April 13, 2023 2:55 pm
So, who wins the CBD oil vs treats for dogs debate? Well, it comes down to your dog's preference. If it's easier to give them the infused oil directly, you'll be better off with that option. Other owners might feel better with an enrichment experience like treats, so choose whichever suits your style best.
Hearst Newspapers participates in various affiliate marketing programs, which means we may earn a commission when you click links in this content. Our professional curators independently research and recommend products and services, with no newsroom involvement. Merchants can pay for a sponsored listing and may choose to rewrite their summary. When that happens, we label the listing as "Sponsored" and highlight it in grey to differentiate the merchant-provided content from our writing.