Hearst Newspapers participates in various affiliate marketing programs, which means we may earn a commission when you purchase products featured in this content or purchase from vendors featured here. Our professional curators independently research and recommend products and services, with no newsroom involvement. Merchants can pay for a sponsored listing and may choose to rewrite their summary. When that happens, we label the listing as "Sponsored" and highlight it in grey to differentiate the merchant-provided content from our writing.
CBG gummies (Cannabigerol) may be a little less popular than other cannabinoid products like CBD and THC. The market is saturated enough that deciding on which one to buy may be overwhelming. Not to worry, we can help!
In this article, we're going to talk about CBG, the effects and benefits it may have, and we'll give you a detailed review of some of the best CBG gummies you can find on the market. 
Key Takeaways
CBG may not be the most popular cannabinoid but it's still making waves.

Gummies may have quickly become the more popular method for consuming CBG.

We share insight into our compilation of some of the best CBD gummies on the market today.
A Quick Look at the Best CBG Gummies 
Potential Benefits of CBG Gummies
Possible Stress Relief
Like other cannabinoids such as THC and CBD, CBG may also have antidepressant and stress-relieving properties. Furthermore, studies suggest that CBG may possess therapeutic effects. 
CBG may help deal with anxiety and stress. Also, the fact that it may not have psychoactive effects makes it a preferred option for the demographic of people looking to enjoy the benefits of cannabinoids without having to deal with getting "high." 
May Promote Appetite
Munchies are sometimes a side effect (or even benefit for certain people) of consuming THC. Higher potency THC could make you extremely hungry. However, even when CBG products only contain trace amounts of THC the cannabinoid could still give you munchies.
For instance, in a study on rats, CBG was found to increase the appetite of satiated rats with no terrible side effects. While more human studies will still need to be carried out, a CBG gummy may be helpful to individuals struggling with low appetite. 
Could Improve Eye Health
It may surprise you, but there are many cannabinoid receptors in the eye tissues, meaning that CBG could play a role in improving eye health. 
One of the ways that it could achieve this is by regulating the levels of intraocular eye pressure. High levels of eye pressure may affect blood flow to the optic nerves which would consequently affect overall vision. Therefore, taking a gummy may ensure your eye remains in perfect condition. 
May Reduce Inflammation
Generally speaking, CBD is a cannabinoid that some believe could have anti-inflammatory properties. Some studies point out that CBG may also support a normal inflammatory response in the body. Of course, more thorough human research will have to be conducted to comprehend just how much CBG may help in dealing with inflammation.
Could Boost Metabolism
CBG may improve metabolism and fat storage. But this still needs a ton of research.
Pros & Cons of CBG
Here are some quick details on the potential benefits of consuming CBD:
It may help with anxiety and stress

It may support a fight against cancer

It could help ensure a healthy metabolism

It is potentially valuable for eye health

It may help with inflammation in the body

It may support a healthy appetite
Furthermore, apart from the aforementioned, another significant advantage of CBG is that it could be non-psychoactive, which means that you wouldn't get high from taking it. This would make it a good choice for people who need relief or energy during their work day and are, therefore, not looking to get high. 
Of course, like any other medication or supplement, CBG is not without some downsides. Here are some potential side effects of using CBG. 
Here are some potential side effects of CBG.
Anxiety:

Users of CBG may experience feelings of anxiety, especially when they take it in large volumes without being used to it. If you feel anxious after taking CBG, you may stop taking it for a while.

Dizziness:

Just like with anxiety, taking large doses of CBG may result in dizziness. Furthermore, users may also experience dizziness if they are sensitive to cannabis products.

Nausea:

Users may also experience nausea when they take CBG for many reasons ranging from personal body composition to taking it on an empty stomach. 

Dry mouth:

Like THC and CBD, CBG may also result in a dry mouth when you take it.
Best CBG Gummies
This is our number choice in the world of CBG gummies. Batch CBD + CBG gummies are designed to uplift your mood during the day and give you the best disposition to tackle your day.
Apart from this, these gummies are loaded with full-spectrum hemp extract, as well as natural tangerine flavors. Furthermore, in each container produced, you will find 30 juicy gummies that are gluten-free, vegan, and non-GMO.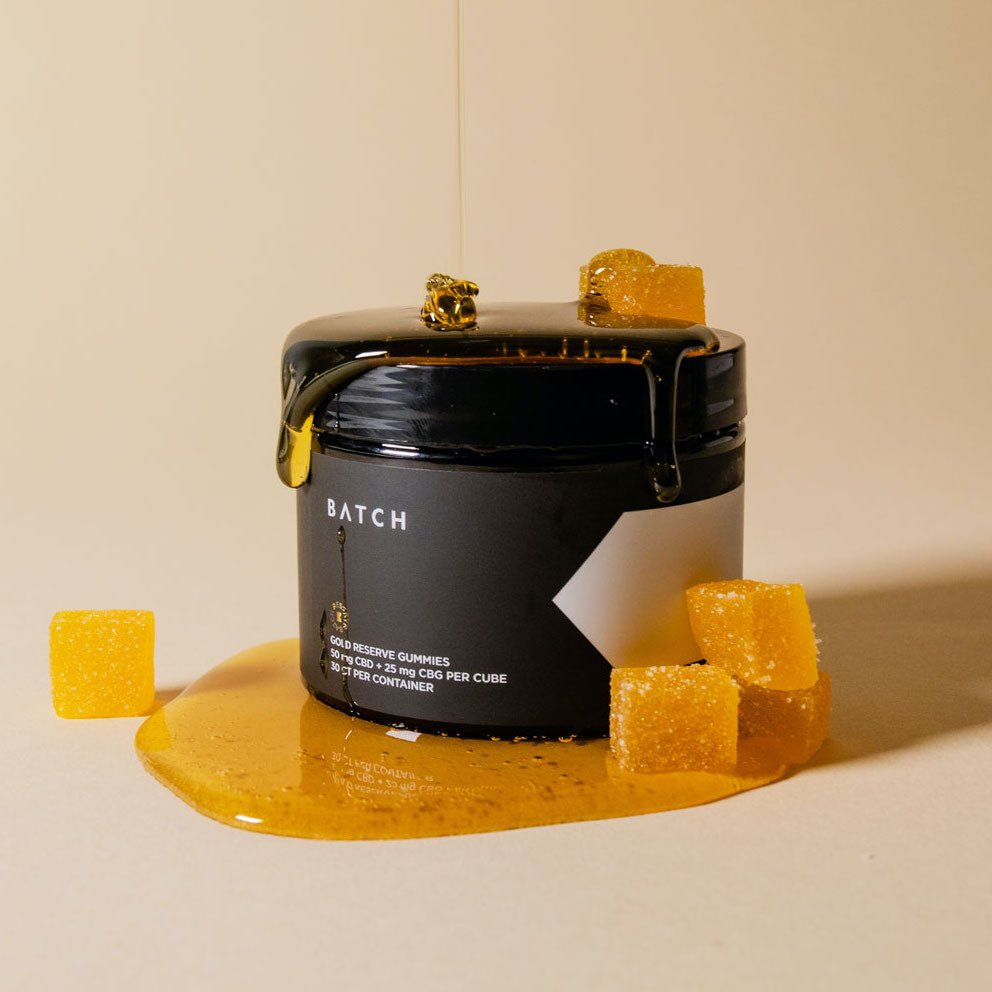 Photo Courtesy of Batch CBD 
These gummies contain 50 mg of CBD and 25 mg of CBG per gummy. This is a great product for people that have a bit of tolerance built up and feel that just CBD won't be enough for them.
You should note that the gummies come with a recommended dosage. First-timers should take half a cube of gummies, while more experienced users may take a cube or more. However, caution is still advised. 
Regarding CBG designed to affect your body rapidly, our number one choice is Medterra's Citrus Gummies. These fast-acting gummies will provide your body with a calming effect within 10 minutes of using them.
These gummies are made of CBG, l-theanine, GABA, and skullcap so they may make have a calming effect. These products could be great for first-timers as they only contain 5mg of CBG per gummy. If you want to verify the cannabinoids in the gummies, they have a lab test available there as well that suggests there is no THC in this product.
Also, when it comes to dosage, the brand recommends taking one gummy about 10 minutes before you would like to possibly feel calm or relaxed. 
Several CBG gummies could be used to help individuals deal with pain. Our first choice for this task is Dad Grass's gummies. These gummies are made from hemp flowers, and they may provide both relief and rejuvenation to the body. 
Photo Courtesy of Dad Grass
The CBD + CBG formula is to mix a soothing feeling with an energetic one and provides the perfect balance for the body. The product contains 10mg CBG and 10mg CBD per gummy, which is a pretty balanced dosage. Furthermore, these gummies could be fast-acting, and they possess Hibiscus Lime flavors that you may love. They are also gluten-free and are made with vegan ingredients.
When it comes to the dosage, the brand recommends that you take 1-2 gummies when you feel a need to use the gummies.
The most unique thing about the fourth CBG gummy on our list is that it is made with Turmeric. The primary benefit that turmeric could add to CBG gummies is that it may contribute to helping with health issues related to antioxidant and anti-inflammatory issues. There is 200mg of turmeric per gummy.
Therefore, Moonwlkr's CBG gummies could also be CBG gummies for pain in the muscles, inflammation, and recovery. Furthermore, they have a lime ginger flavor that we think makes them really tasty. 
When it comes to dosage, the brand recommends one gummy per day. Each gummy has 25mg CBD and 10mg CBG, which means this could be really good for amateurs.
If you like the idea of CBG combined with CBD, then these gummies by Area 52 could be the best product you can buy. Each gummy has 50mg of CBG, contains green tea extract and vitamin B12 for an energy lift-off! There are 30 gummies in the pack so you're getting 250mg of CBG here.
It may provide you with a great energetic feeling that allows you to be active all day long. It is also hemp-derived and comes in fruity flavors. When it comes to usage, the brand advises that you use caution, taking small doses. 
How We Made Our Top Choices for Best CBG Gummies
To arrive at the Best CBG gummies, we used a set of criteria for each gummy. The gummies that we labelled the best were the ones that met all these criteria. The factors we considered are listed below.
Brand Reputation 
The goal here is to find out about the brand producing the gummies. Are they a leader in the CBG industry? Do they have a reputation for producing high-quality products? Brands with a good reputation for their work and products are probably more likely to produce quality CBG gummies. 
Ingredients 
We specifically look out for gummies with all-natural ingredients. Also, gummies that contain other cannabinoids like CBD or certain helpful ingredients like turmeric are also very useful because they have additional benefits. 
Customer Reviews 
What does the market have to say about the products of the brand or even their gummies in particular? People talk about quality products just the same way they do about horrible ones. We get on Reddit and Facebook to see what users say about products. As you can guess, negatively reviewed products are not mentioned on our list. 
Third-Party Testing 
We think that the best CBG gummies are the ones that are reliable and transparent about the ingredients in them. That is why we only recommend gummies that have gone through third-party lab testing. Generally, when it comes to testing, there are two things we look out for: potency and purity. 
Purity helps to know whether the product is free from harmful substances, while potency gives an analysis of the number of cannabinoids in a gummy as well as their composition. 
Price
Here, the general rule is to be wary of CBG gummies that are ridiculously cheap. CBG gummies have different price ranges, and we recommend products on a spectrum of budgets, but unexplainably cheap products will not make our lists. 
Customer Service 
How do they treat their customers? What are their discount, guarantee, and return policies like? After-sale customer service really tells us what kind of experience the brand is providing and we tend to stay away from brands that are notorious for bad customer service.
Best CBG Gummies: Frequently Asked Questions
What are CBG Gummies?
A CBG gummy is an edible that contains cannabigerol, among other ingredients. Cannabigerol is a cannabinoid found in young cannabis plants. CBG could have a couple of potential health benefits. 
What is CBG in Gummies?
CBG is a cannabinoid found in cannabis and hemp, it may be non-psychoactive (meaning that it wouldn't get users high). Like other cannabinoids, it could have specific health benefits, including possibly pain and stress-relieving symptoms. There are many ways to take CBG, such as edibles, tinctures, oil, etc.
How Long Do CBG Gummies Last?
There is no one-size-fits-all answer to this question because different individuals react differently to CBG gummies based on various factors, including body composition. This means that CBG gummies may last for different lengths of time in different people based on factors like frequent use and biological composition. 
How Strong are CBG Gummies?
It depends on each brand and product. Some gummies contain 25mg of CBG, while others contain 5mg. The amount of CBG, alongside other ingredients, will determine how strong a product is.
Are CBG Gummies Trustworthy?
Generally speaking, just like CBD, CBG is considered reliable. Although some side effects may still occur in users. However, research is still ongoing to examine how CBG interacts with the human body.
Conclusions & Final Thoughts
CBG products are slowly becoming a thing in the cannabinoid industry, with more brands producing gummies and oils. In this article, we tried to highlight some of the best gummies out there for different functions.
However, beyond these recommendations, it is essential that you pay attention to the criteria to check when buying a CBG gummy. Doing this gives you the tools to choose the best CBG gummy every time you decide to get one, even if you don't get the ones explicitly listed here.
Hearst Newspapers participates in various affiliate marketing programs, which means we may earn a commission when you click links in this content. Our professional curators independently research and recommend products and services, with no newsroom involvement. Merchants can pay for a sponsored listing and may choose to rewrite their summary. When that happens, we label the listing as "Sponsored" and highlight it in grey to differentiate the merchant-provided content from our writing.