I went to a diverse, women-centric cannabis gathering — and it was awesome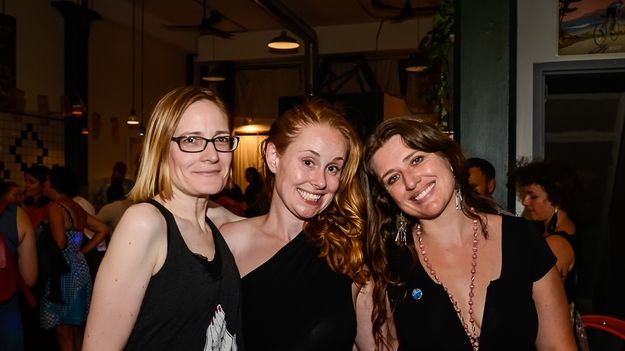 On an unusually warm Saturday night in June, a couple dozen people were milling about in a cafe in Oakland: one woman was instructing another on the mechanics of a bong; another was getting beginner tips on how to smoke hash; as the night wore on, it was clear the cannabis-infused samples, cocktails, and chocolate fountain were beginning to catch up to folks. Some finally lit up blunts. Two ladies sat at the bar for a good long while, facing each other but not saying anything.
But that was the beauty of this event — there were all types of people there for all sorts of reasons: to network, to buy and sample products, to support friends and to indulge in some cannabis and chill out to the music. It felt like shopping at an enlightened, empowering farmers' market where everyone was friendly and enthusiastic about making you feel good. I realized I wasn't at your typical "sesh."
If the only thing you knew about seshes came from social media — and, yes, before this particular Saturday evening, that included me — you might imagine them to be illicit gatherings of young dudes lighting up gargantuan-sized joints in dark, smoke-filled rooms. And you would not be entirely wrong.
What's a sesh, exactly? Shorthand for "session," it's basically a private, invite-only gathering of folks who smoke, dab, vape, ingest, and otherwise get blazed.
So when I heard about The Gold Den, a new sesh started by Gina Golden, 45, of local edibles and topical collective Golden Goddess, I was curious. The event page, which was hidden behind a password, promised a more upscale affair, far from the dab sessions that show up under various incarnations of the #sesh hashtag on Instagram, but also not as out of reach as the fancy $100-per-person sit-down meals being organized by high-profile canna-chefs.
"I saw a need for something that was affordable for most people but still felt like an elevated experience," Golden explained in an email. "So I have been curating events with some of my favorite Bay Area Canna-Creatives, where we can share what we make in an intimate setting with great food, medicated beverages and local DJs. It's a really good time with a diverse crowd that exemplifies the beauty of the local community."
To attend the sesh, which was held on Saturday, June 17, you needed a password to access the ticket link ($25-$30) and a valid medical marijuana prescription. The location was only revealed 24 hours before the actual event, and my confirmation email came with a helpful rundown on what things would be medicated (cocktails, chocolate fountain) and not (snacks on the food table), as well as a reminder to pace yourself so as to "find that sweet spot where you feel relaxed and happy but not overwhelmed."
As encouraged by the event organizers, I took public transportation to the location, which ended up being at a cafe in Oakland not far from a BART station. (The reason I'm not divulging the exact location is because seshes exist in a legal gray area. Licensed gatherings outside of a dispensary are not yet legal in Oakland, although private adult cannabis offenses are considered the lowest law enforcement priority in the city.) A woman outside checked my ID, and then I passed through a curtain to a brightly lit, decidedly smoke-free space filled with vendors, a food table, a bar, a DJ playing a laid-back mix of tunes, and a couple dozen people milling about and chatting. There were a few oil paintings on the wall and a gold-themed shrine lit up with Christmas lights.
What was so remarkable about it was how unremarkable it all seemed. There were about nine vendors. No one appeared to be smoking. The crowd was a diverse mix that reflected Oakland, and women made up the bulk of the vendors and the attendees. It was just the right amount of people to encourage socializing but not too many to feel crowded or uncomfortable. As a 39-year-old woman, I did not at all feel out of place, which is what I usually feel when I go out these days. It was all so welcoming and decidedly non-sketchy–not at all what I envisioned.
After signing a member agreement for the Golden Goddess Botanicals Collective and having my medical marijuana patient card photographed, I was given raffle and drink tickets. Temperatures that day had reached the mid-80s, so it was still stuffy and warm inside the venue when I arrived, around 8 p.m. I found Golden, wearing a long, hot-pink dress with gold trim, near the entrance. Her Golden Goddess line includes beautifully packaged, full-spectrum, single-strain, cannabis-infused topicals such as roll-on perfumes and a facial serum, as well as edibles like honey, granola, and barbecue and hot sauces.
"I see a lot of changes happening in the industry," Golden told me, explaining that she's been in the business for 10 years and helped gather signatures for Prop 215 decades ago. But with legalization, businesses backed by big investors are entering the field, drowning out small makers like her in the process, she said. She cited the example of her lickable body butter, Tantra Balm, which she started selling four years before Foria, which makes a THC-infused lubricant for women, entered the market and claimed to be the first cannabis-infused "sensual enhancement oil."
But Golden didn't have the marketing budget to spread the word about her product like Foria did. "It was frustrating for me, but I don't have the funding to put myself out there," said Golden. Her sesh, the first of which was held in December, highlights local makers so they can stay relevant in the increasingly competitive market. "This sets the tone for the community," she said.
And what an inclusive tone it was. It was striking how women-centric it was (although not exclusively). Erica, co-owner of topical maker Flower Power, based in Mendocino County, said she liked the opportunity to interact face-to-face with patients and appreciated the high-quality products represented in the room. (She did not want to give her last name to protect her privacy.)
"They're really welcoming," Erica said about the event organizers. "[Golden] is not trying to dominate the whole thing. She's really supportive of women."
Several attendees said they had never been to a sesh before. Araceli and Marina, who live in Oakland and didn't want to use their last names to protect their privacy, said they heard about the event through their friend, one of the vendors.
"I didn't know what to expect," said Araceli.
"I was expecting a Google staff party," Marina chimed in, "and then I get here and it feels like my living room."
"It's super-chill," added Araceli.
KJ, a 30-year-old guy sitting at the bar, also said the event wasn't at all what he expected. "I thought it was going to be a Snoop Dogg smoke session," he said, sounding only somewhat disappointed. Originally from Memphis, Tennessee, the man said he came to the event so he could smoke "without getting harassed by law enforcement."
Where he's from, "as soon as I'm at my driveway, I'm getting pulled over," he said. "You can literally go to jail for having the end of a blunt in your car."
Only having lived in Oakland for a few months, he said he enjoyed the inclusive atmosphere of the event. "Everyone is open and welcoming and friendly," he said. He added that he also was hoping to network with people in the industry in order to get a job. Cannabis, he said, "is the new American dream."
Katie, who I met toward the end of the night, said she works in hair and makeup in the entertainment industry but wants to start a female-run distribution, wholesale business, or dispensary with a holistic atmosphere. "The world has plenty of male-run companies," she said. "I think women need to support each other more…. Right now it's a free-for-all. As long as we're in touch with the law, we can do anything. The sky's the limit."
On this particular night, it kind of felt like she was right.
Kathleen Richards is a freelance journalist based in the San Francisco Bay Area. Photos by Mike Rosati.