Finding the best weed in Bangkok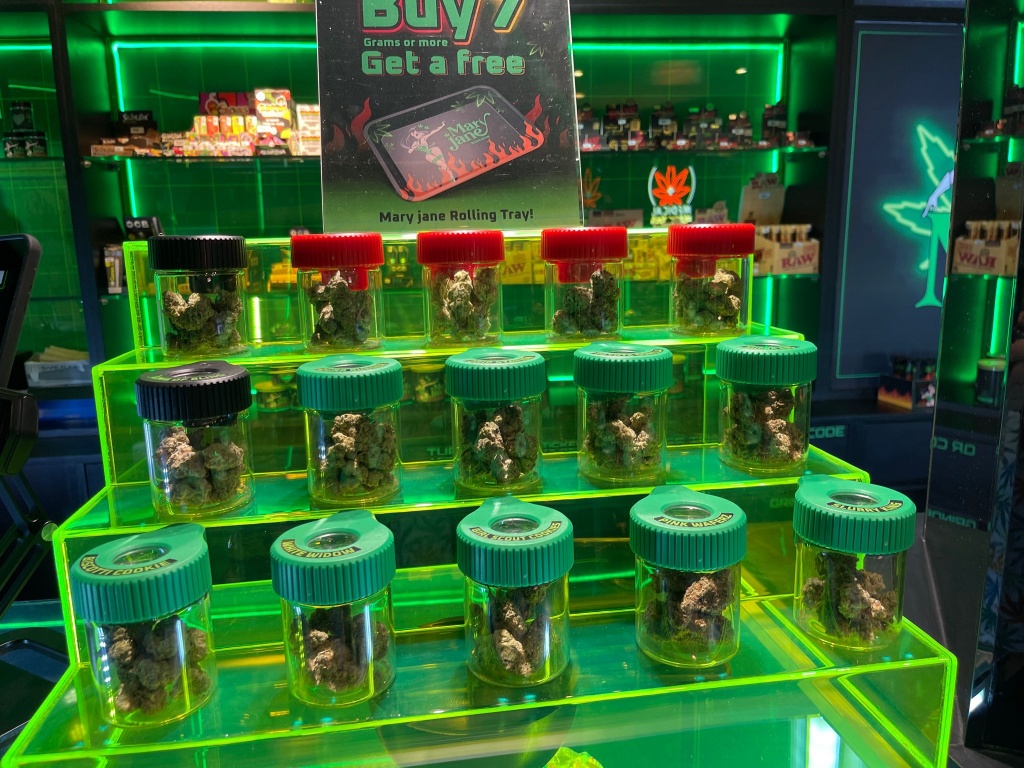 Bangkok has more dispensaries and cafes than you could shake a Thai-stick at. When looking for cannabis in the great city of angels and other areas of Thailand, you are bound to find an abundance of flower, and a good amount of gracious banter from the budtenders. Intermingled throughout, and more prevalent than local, high-quality cannabis, however, is imported weed; low-quality buds from California or other legal areas where it couldn't be sold and made the long voyage overseas.
Sadly, this can confuse many first-time or new smokers who are lured in with the sales tactic "..it's from California!" and are sold on the idea more than the product itself. What I noticed is that these customers are not accustomed to looking for, or can sometimes be confused by, which is quality cannabis. As someone living in California and smoking the best, my mission was clear: help people find the best weed in Bangkok!
Never one to turn down a smoke fest or judges' panel, this was a task I was definitely suited for and not something I took lightly. Traveling to over 30 different dispensaries, I found much of the same imported weed priced as high as it could go ($20-25+ USD/g). Having tried a few of these places to be kind, I knew I wouldn't be including them on my tier list below.
If you want the best, you support local, and you buy local. Speaking with other smokers at the clubs, in the streets, and on the beaches, I could see that the concept came as a surprise. In a land where Western brands can easily dominate, buying locally-grown cannabis was almost looked down upon. However, as someone coming from the land of cannabis, I could see my opportunity to help educate.
Shop Criteria: The biggest contributors here are prices and unique offerings, using local farms or vertical integration. Friendly budtenders who are knowledgeable and excited about the products are next. Last would be the aesthetics, as having the coolest people and the best product is what's important, but a dope space definitely helps. 
Strain Criteria: I asked the budtender for their most potent recommendation. From there, I used my eyes and nose to pick out the best each shop offered. One gram of each strain was purchased, and depending on location, sometimes more than one strain was chosen. Only locations and strains worth mentioning are listed. Points awarded for flavor, strength, and burn quality.
Dispensary/Club: Plantopia
Location: Khao San Road
Tier: B
Notes: Smack dab in the middle of a backpacker's dream is Plantopia in Khao San Road. Literally the "Mall of Weed." Every type of product you could imagine is available here, even concentrates! The gracious owner of the first club I saw, Sky High Dispensary, offered me a hit off the new tabletop-style vaporizer, which you can sip the vape from. Walking around the mall, you could find just about anything cannabis related you were looking for.
As I wondered about, a shop with some LEDs and a few plants growing caught my eye. This was the location of the Leaf5Team, and their focus was lighting the new indoor grow rooms of Thailand. Beyond that, they buy from local farmers who use their products and then retail them to the public. This allows them to source high-quality flowers, which can be sold as a proof of concept, which I totally believe in.

This location is worth going to if not for the pure spectacle of a Mall of Weed. However, some of the vendors' wares leave something to be desired. But if you poke around, there are definitely a few diamonds in the rough. With Bangkok being a city that loves malls, this is no exception and a welcomed addition.
Strain: Crescendo
Review: 3.9/5
Notes: Strong nose of haze, tropical fruit, and pine. For me, a bit too loose on the trim, but that's being nitpicky. Overall nice quality sativa, even burn, and energetic uplifting high. Budtender weighed me a bit heavy after a hearty discussion, but your mileage may vary.
Location: Sukhumvit, Ekkamai
Tier: A
Notes: If these locations were rated on aesthetics alone, these dispensaries would have ranked higher. Obviously, taking a note from how California dispensaries are run, these locations are like stepping into a fantasy or futuristic world of weed, depending on which location you visit, and I checked them all out.
Cloud Nine positions itself as buying weed in the heavens, but to me, it was the Superstore of weed. Kush House is a dispensary mixed with an art gallery and has some unique pieces in there, especially if you like Star Wars. Mary Jane is the quintessential shop style with a nice selection of products and merch offerings. Wonderland is trippy and based around, you guessed it, Alice in Wonderland. One of the coolest dispensaries anywhere, and if you were only going to pick one from Panthera, this would be the one I would suggest. 
What didn't I like? Well, the first shop told me the weed was imported before another budtender corrected them that their farm was in Chiang Mai. So that felt odd, but I shrugged it off as a new budtender, and no big deal. Moreso, the issue I had was no exclusivity amongst shops and basically all carrying the same product lineup. Making the product offerings at each location more unique to get me in the door is my only advice.
Strain: Juicy Gold
Review: 4.1
Notes: Spice and sweet, like taking a dip in decadent cake icing before being dusted in Indian spices. This was recommended to me at all the Panthera group locations as their strongest flower, and having tried three others. They were not kidding. Definitely a unique flavor and one that packs a punch while still feeling sweet on every hit.
Also sampled from Panthera Group: Stardawg (3.7), Mandarin Cookies (3.9), Gelato Sunday (4.0)
Location: Sukhumvit
Tier: B
Notes: When mentioning locally grown cannabis in Bangkok, you often hear the name Sukhumweed come into play. It's also just kind of a fun name to say, and that stretch of road is pretty popular for foreigners, so it's easy to remember. When talking with the budtenders, you could tell that locally sourced flower was their focus, and that was something we were definitely in agreement with. One of the more approachable locations with a small downstairs dispensary that makes you feel more at home.

Upstairs is a lounge area with a smoking room and NES hooked up and ready to rock and roll on some classic gaming post-bong rip. There were also some flowering plants under LED and an overall general-purpose area for what seemed to be a stoner hangout and where you might snack on some street food purchased below before smoking. Many unique strains at this location make it worthy of a trip on its own. However, the lounge being upstairs could be difficult for some.
Strain: Super Saiyan 4
Review: 4.2
Notes: Almost a spicy chili covered in tamarind that's been swirled in a cup of gasoline. Strong terps that equate to spice on the tongue and fuel on the exhale. A very zesty strain that leaves your tastebuds salivating, as if it was truly hot, and then you want more. Smoke a fat bowl and release your inner Goku.
Dispensary/Club:

Cookies
Location: Lumphini
Tier: A
Notes: You can't deny this international brand even if you tried. In a nice little upstairs location, this shop includes all the dopest Thai exclusive merch and several strains Cookies is known for. Speaking with the budtender who had been at the shop since nearly its inception, I got to hear about how all the flower is locally grown but that they are not currently vertically integrated.
Again, if this location was rated on aesthetics only, it might have been at the very top, as the branding and merch is obviously on point. That's a Cookies specialty. But with high prices comes an ever-discerning customer, and unfortunately, the bud, while still high quality, did not match the overall brand as much as you would like. Add that to an upstairs location that could be hard to reach for some with disabilities.
Strain: Runtz
Review: 3.8
Notes: Straight gassy notes mixed with spice and a bit of a ginger kick. Strong terps on the nose only; they didn't carry through to the smoke. Steady, smooth burn and a nice heady buzz though.
Location: Silom
Tier: S
Notes: Some shops you go to, and it feels like a Bodega, and that's ok. Others you show up and it feels like an upscale event, something you get excited about just walking through the doors. No need to dress up, however—t-shirts and shorts are fine at Frost Fine Cannabis, the Rolling Loud Festival sponsor, which recently opened its doors in Silom. With merch that is flying off the shelf as quick as that previous confection brand, you can see why this brand is growing fast.
Speaking with the budtenders here, and in an exclusive interview with shop manager Irene, I got to learn a lot more about Frost and what they are bringing to the Thai market. Currently, the flower is locally sourced while they are setting up their own farm to be vertically integrated. Vertical integration in cannabis refers to when the shop owns the grow and generally the lab as well. This allows them to control the quality of the product from seed to sale. But whoever is sourcing their product currently at Frost has a nose for flavor, as there were a lot of products with amazing terpene profiles here.
Strain: Apples and Bananas
Review: 4.3
Notes: Straight in your face, fruit gas. This terpene profile extends directly into the flavor and leaves you exhaling diesel fumes in its wake and your tongue salivating for more. One of the strongest flowers I tried while in Bangkok, and I tried a lot. 
Also sampled from Frost: Colt 45 (3.8), Raspberry Cookies (4.0)
Location: Near Suvarnabhumi Airport
Tier: A
Notes: Have you ever gotten so high you felt like you were going to take flight? Ever dreamed of visiting a dispensary beneath a plane and then coming aboard for medicated drinks and delicious food? I will have more to come dining, drinking, and other cannabis experiences in a future write-up, but to say that High Flight is cool would be an understatement.
As I told the owner, this is a location and experience unlike you could get elsewhere. Truly a dispensary beneath a McDonnell Douglas airplane, how do you get zoning for that? Regardless of when you are ready to take off, they have everything you need, from good weed to merch and unique cannabis-themed items for sale. We also discussed that all of their flower was all locally sourced, and for them they feel that it's the best way. That way, they can pick and choose which flower they want to carry in the shop. 
Strain: Gelato Cheese
Review: 4.0
Notes: Sweet orange marmalade cheesecake terps with a smooth finish. One of the sweetest and tastiest sets of flavors I tried all trip. No need to pass through TSA to get this showstopper, and lucky because its terps would set off security.
Location: Sukhumvit, Sala Daeng, RCA
Tier: S
Notes: At Taratera, they are doing it right, and achieving amazing results that only keep getting better. As a business that started with CBD extraction prior to full decriminalization, they were positioned to make the changeover to THC when the market first opened. I was lucky enough to have attended the Green Ape launch party and met some of the fine folks behind the scenes at Taratera and their partnerships.
The team is easily some of the most devoted people I have ever seen in the cannabis business to date, and they have been in the scene in Thailand since it was first medically allowed. But beyond all that, their shops are really cool! Walking into The Dispensary on Sukhumvit, you can really see the hard work that has been put into making this a top-tier brand and destination. With a full flowering room that is facing out, which is simply breathtaking, this location is a must-visit.
This was also the only group I found to be fully vertically integrated, locally grown, and lab tested. Many other shops claimed lab tests but when questioned admitted to using strain ranges, but not here. Real lab testing, unique terpene profiles, and one of the most important factors of all: affordable. Many strains at Green Ape were sub $20 USD a gram and of comparable quality.
Strain: Cinnamon Peach Pie
Review: 4.5
Notes: Citrus on top of peach notes that blend into spice and everything nice. What could be the next Cookies-like strain, easily a flavor profile that makes you just want more and more. But beware of its strength! Probably the most euphoric high I experienced across everything I tried in Thailand.
Also sampled from Taratera: Yuzu Roller Coaster (4.1), Guava Honey Daiquiri (4.4)
After all was said and done, and the ash was settled, I could say all of these shops were true winners in my book. If you make it to any of them, you will not be let down. In fact, I can guarantee you will leave better off and higher than you were before you came in. Don't settle for bad weed because it's everywhere. Find the best, smoke the best, and if you have questions, reach out and I'll send you in the right direction.
This article was submitted by a guest contributor to GreenState. The statements within do not necessarily reflect the opinions of GreenState, Hearst, or its subsidiaries. The author is solely responsible for the content.