What is the best dispensary in Grand Rapids, MI?
Our professional curators independently research and recommend products and services, with no newsroom involvement. Merchants can pay for a sponsored listing and may choose to rewrite their summary. When that happens, we label the listing as "Sponsored" and place a border to differentiate the merchant-provided content from our writing.
Grand Rapids has been known as the "Beer City" for years, but recently, cannabis dispensaries have become the rising star. In 2018, Michigan became the first Midwestern state to legalize the medical and recreational use of cannabis, and with that, dispensaries exploded around the state.
With so many great places to choose from, it can be hard to pick which dispensary to spend your money at, but luckily for you, we've done the research and come up with a list of the picks for the best dispensary in Grand Rapids. Let's take a look at some of the go-to spots for cannabis fans in town.
Key Takeaways
Medical and recreational marijuana has been legal in Michigan since 2018.

We chose the best dispensaries based on quality, variety, customer service, and community engagement.

NOXX is our number one dispensary, offering a wide product selection, great promotions, and exceptional customer service
A Quick Look at the Best Dispensaries in Grand Rapids, Michigan
NOXX

Cookies

High Profile

Pharmhouse Wellness

Ascend Cannabis Provisions

Lume Cannabis Co.
What to Look for When Choosing a Dispensary
Choosing the right dispensary is as critical of a decision as picking the right product. It can impact your overall experience, which is why there are a couple of key factors to consider before you pledge your loyalty to just one place.
First and foremost, you want to make sure the dispensary carries what you need. Do they have a medical menu, a recreational menu, or both? If they don't have a medical menu, do they offer a medical patient discount? Do they carry brands that you enjoy? Or strains that you prefer? How strong are their products? Check for dispensaries that have certificates of analysis for products. Loyalty programs and discounts are also a plus. Highly awarded or highly-regarded dispensaries are a good choice, especially if they partner with renowned cannabis brands or growers.
When it comes to the overall experience, you'll want to stick to dispensaries that have gained a good reputation by offering a knowledgeable and helpful customer service experience. Reading user reviews can often give you insight into what the atmosphere is like and might even give you advice on which budtenders are best.
Picks For Best Dispensary in Grand Rapids, MI
With dozens of dispensaries in the area, it may be hard to pick which one to go to in Grand Rapids. Luckily for you, we've rounded up our personal favorites. Let's explore the best dispensaries in Grand Rapids, Michigan.

PAID LISTING

NOXX
With 2 dispensaries in Grand Rapids, Michigan, NOXX Cannabis stands out as the premier destination for recreational cannabis enthusiasts, earning it the title of the best dispensary in the area. Their flagship store is at 2440 28th St SE, Grand Rapids with a second store in the Creston Neighborhood, located at 1234 Plainfield Ave NE, Grand Rapids.
What makes NOXX Cannabis stand out above the rest is that it offers a diverse range of high-quality products. From a wide selection of strains to various forms of cannabis like edibles, infused pre-rolls, and all-in-one vapes, they cater to a broad spectrum of preferences and needs. NOXX consistently carries over 90 different brands, which ensures that both newcomers and seasoned users find something that suits their tastes and requirements.
The atmosphere and customer experience at NOXX Cannabis also contribute significantly to its reputation. Customers often highlight the welcoming and modern ambiance of the store, which makes shopping for cannabis a comfortable and enjoyable experience. The store layout is designed with the customer in mind to make the buying experience as efficient as possible.  They have a dedicated to-go window in the reception area, eliminating the need for online shoppers to wait in the budroom just to pick up their order.   
Knowledgeable and friendly staff are another key factor. The budtenders at NOXX are not only well-versed in their product offerings but also excel in customer service. They are known for their ability to guide customers, whether it's someone new to cannabis or a connoisseur, providing recommendations and information that ensure customers are getting products that are right for them. 
Customer reviews and word-of-mouth play a significant role in making this a return destination for cannabis consumers in Michigan. Positive experiences shared by customers online and in person contribute greatly to the dispensary's reputation. These reviews often highlight the exceptional customer service, product quality, and overall shopping experience at NOXX Cannabis. Check out some of the recent rave reviews below:
"Alex at NOXX was awesome, he helped me navigate a great purchase. I love the whole team at NOXX everything I'm in GR I make a pitstop."
"Every time I shop at NOXX and Seth is there I have a wonderful experience. He provides excellent customer service, and knows what he's talking about. His suggestions are all genuine and you can tell he loves what he does. Thank you, Seth!"
Why NOXX Tops Our List for Best Dispensary in Grand Rapids
NOXX Cannabis in Grand Rapids distinguishes itself as the best dispensary through its commitment to inclusivity, innovation, and quality. Their mission is centered on providing the community with a broad selection of cannabis products, ensuring that there's something for everyone. This approach is rooted in their core values of embracing the journey through the power of the plant, fostering community spirit, encouraging personal hustle, and respecting individual spaces.
Their focus on innovation and quality is evident in their product offerings.  For example, NOXX is the only Grand Rapids dispensary that offers a Monthly Subscription Box, which delivers hand-picked products from their top brands to your door every month.  The "Max Box" includes at least two 8ths, two Pre-Rolls, one Vape Cart, and one pack of Edibles.  For only $150, customers get over $225 worth of cannabis products, which is great for sharing.  The "Classic Box" provides a $150 value for just $100, and the "Mini Box" gives you a $90 value for just $75.  With no contracts, customers can cancel their Monthly Subscription Box anytime.
The innovation doesn't just apply to their product offerings.  hey've got a sweet rewards program that offers rewards that allows you to earn 5% back on everything you buy, $25 when you spend your first $100, and a $10 coupon on the first of every month.
NOXX Cannabis also offers free and discreet same-day delivery as an option for customers in their delivery area. After you order online, your delivery driver will arrive in an unmarked car.  Minimum order amounts for delivery from NOXX depend on your proximity to the establishment. These amounts fluctuate between $50 and $75. Orders within the central zone require at least $50, while other areas necessitate a $75 minimum. The online ordering platform will alert you if your order doesn't meet the required minimum for your specific location.
Even the NOXX website is cutting-edge.  While most dispensary websites require five or more clicks just to add a product to the cart, Noxx.com allows customers to add products to their cart with just one click from the homepage.  The website is also easy to navigate and filters products by cost or potency.
These factors, combined customer-centric approach, are why NOXX Cannabis is chosen as the best dispensary in Grand Rapids.
What To Know Before You Go
Before you head over to NOXX's 28th St or Plainfield Ave. locations, just a heads up on a couple of things. You have to be 21 or over to buy anything, so don't forget your ID, like a driver's license or passport; they'll definitely check it at the door. And hey, even though it's all cool to buy cannabis in Michigan, remember you can't just light up wherever you want. Consumption in public places remains illegal. So be sure to use it privately and responsibly.
And finally, the budtenders are there to help and can offer valuable advice on products and dosages. Don't hesitate to ask questions, especially if you're new to cannabis.
PAID LISTING
Cookies
Conveniently located at 330 Ann St NW, Grand Rapids, Cookies is an iconic destination. The roots of this dispensary can be traced to the creators of the uber-famous strain Girl Sout Cookies (GSC), Jai and Berner. While their strain has gained international recognition, this dispensary is sure to rise in popularity as they offer a wide and diverse range of products featuring their innovative genetics
While other dispensaries may have a few Cookies products, the Cookies dispensary offers the largest selection of Cookies products in Grand Rapids.  
Cookies prides itself on offering a unique customer buying experience:  
"First visit to any dispensary. Cookies had a quick check-in & great customer care. Many varieties & options of flower, edibles & pre-roll. My bud-tender, Andraya, made the experience super smooth! My questions were answered, she asked for my preferences, made suggestions & made me aware of deals. Everything purchased has been enjoyed. Called today with another question & Kyla was very helpful!"
When it came to picking which dispensary would take the number two spot, Cookies is an obvious choice. Standing out with an unrivaled commitment to constant innovation and the highest quality products, Cookies' legacy continues to live on and grow stronger. The visionary founders may hold status as a global phenomenon, but the dispensaries might just be their masterpieces. What started as a garage project has turned into an entire cannabis experience that takes each customer as who they are, guiding them through a wide selection of brands, products, and strains.
What To Know Before You Go
Before popping in to visit Cookies for the first time, there are a few essentials to keep in mind. First, remember you won't be served unless you are over the age of 21 and provide an ID or medical marijuana card. If you're looking for deals, you'll love that they give you 20% off your first purchase if you enroll in their loyalty program.  With options to order in-store or online, you might want to explore their options on the Cookies website before making any decisions.
END OF PAID LISTINGS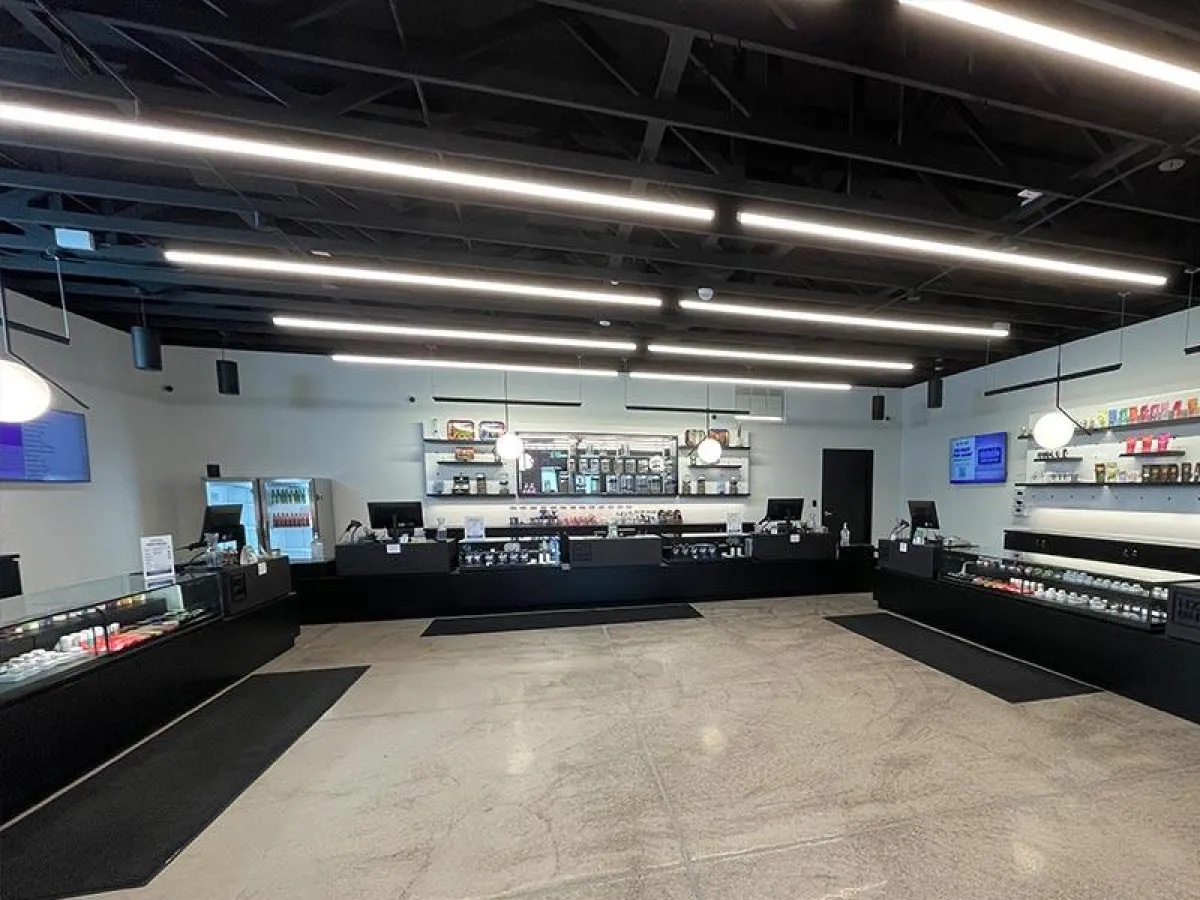 High Profile Cannabis – 44th St
High Profile Cannabis in Grand Rapids is a go-to spot for top-notch cannabis products. Located at 2321 44th Street Southeast, they're open Monday to Sunday from 9:00 AM to 9:00 PM, offering both in-store shopping and curbside pickup.
They've got a wide range of deals, like four gummies for $15 or 5 vape carts for $48, covering various brands. Whether you're into edibles, vapes, or pre-rolls, they've got you covered with specials on brands like Choice, Fluresh, and Platinum Vape. Plus, they've got infused pre-rolls and concentrates for those looking for something extra. Check out the website for current offers.
What Customers are Saying
"Love the variety, friendly staff, knowledgeable and good prices."
What to Know Before You Go
High Profile Cannabis, located at 2321 44th Street Southeast, is easily accessible and offers convenient shopping hours from 9:00 AM to 9:00 PM, seven days a week. They provide both in-store shopping and curbside pickup, catering to your preference and comfort. The dispensary's welcoming atmosphere and knowledgeable staff make it an ideal destination for both experienced users and those new to cannabis.
Checking their website before your visit is a good idea. Their site provides up-to-date information on current offers, product availability, and any special events or promotions. This preparation can enhance your shopping experience, allowing you to make informed decisions and take advantage of the best deals.
Pharmhouse Grand Rapids
Pharmhouse Wellness in Grand Rapids is more than just a dispensary; it's a local gem where cannabis care and community spirit thrive. Nestled at 831 W. Wealthy SW, this 100% locally owned and operated spot is all about bringing top-notch cannabis and genuine care to the neighborhood.
Open Monday to Saturday from 9 am to 9 pm, and Sunday from 10 am to 9 pm, Pharmhouse offers both in-store shopping and curbside pickup. They're all about making cannabis accessible and understandable, whether you're a seasoned user or just starting out. With years of cannabis caregiving experience, their team is ready to guide you through their wide range of medical and recreational products, ensuring you find just what you need.
Pharmhouse stands out with its commitment to the local community. They're not just selling cannabis; they're educating and sharing its healing properties. Their location in the funky green house in the West Wealthy neighborhood is hard to miss, and they've got plenty of parking too. They accept debit card or cash payments, with a handy ATM on-site.
Their new rewards system, effective from January 9, 2023, offers fantastic freebies, price drops, and customized coupons, showing they listen to and value their customers. They've even teamed up with Brewery Vivant, offering Monk Club Members a free flower gift with each visit. Plus, they're all about showing off their love for the community with cool Pharmhouse swag like T-shirts, Beanies, and Hoodies.
Pharmhouse Wellness isn't just a place to buy cannabis; it's a place to learn, connect, and be part of a community that values wellness and togetherness. Whether you're popping in for a quick purchase or looking for some expert advice, Pharmhouse makes sure you leave feeling part of the 'Pham'.
Ascend Cannabis Provisions
With three locations in Grand Rapids, Ascend Cannabis Provisions can fulfill your every wish. This dispensary is committed to serving the greater Grand Rapids community, with a special focus on bringing in high-quality and highly sought-after products.
People travel from afar to enjoy their variety:
"Love this place. Everyone is super nice, the prices are better than in any other place around. The gummies are better quality, and when they're available, the chocolate chip cookies are amazing. Absolutely worth the 2-and-a-half-hour drive."
Their loyalty programs are a great choice if you're a senior, veteran, or medical patient, including discounts and exclusive launches. If you're near one of these dispensaries, we suggest making the most of the weekly deals.
They offer a seamless buying process with a digital ordering system and delivery options, making access to their products convenient and straightforward. The dispensary features a diverse selection of high-quality cannabis products, including their exclusive Ozone line. Customers can find top-shelf flower, vapes, concentrates, edibles, and topicals, all curated to meet a variety of needs and preferences.
Knowledgeable budtenders are on hand to guide customers through the selection, ensuring a personalized experience. Additionally, by signing up for the A-Listers' Rewards program, customers can stay informed about new product drops and promotions, enhancing their shopping experience. Ascend's commitment to quality products and customer education makes it a top choice for both recreational and medical marijuana users in Grand Rapids.
Lume Cannabis Dispensary
With some of the highest-quality products coming out of their in-house lines, Lume Cannabis Dispensary is a welcome site for its many returning customers at 4162 Eastern Avenue SE. This dispensary takes pride in offering some of its own top-shelf cannabis, like Pineapple Express, along with an unmatched variety of brands and partnerships that have led Lume to gain traction in Grand Rapids.
Lume Cannabis Co. has established itself as Michigan's largest cannabis company, and it's not hard to see why it's considered one of the best dispensaries. They offer an impressive array of products that cater to all cannabis preferences, including a wide selection of flower, carts, edibles, pre-rolls, and concentrates. Their deals are particularly noteworthy, with offers like $130 for ounces and mix-and-match options that provide flexibility and savings to customers.
Moreover, Lume's commitment to convenience and customer service is evident through its free delivery across most of Michigan, ensuring that the best cannabis is just a doorstep away. Their Lume Cannabis Club loyalty program is another highlight, rewarding customers for their patronage at the highest level and offering daily deals and bundles for even more savings.
The Lume Cultivated products have gained more than a few fans, like Christina:
"Always an amazing experience at Lume in GR! There has never been a time where I didn't leave satisfied and completely taken care of! It is worth the drive for me and all the people are super friendly and want to help you find the right strain for you and your budget. Very appreciative of such great customer care and support every time I am there! :)"
The dispensary also engages customers with creative marketing, such as the "Golden Ticket" campaign, adding an element of fun and excitement to the shopping experience. With a user-friendly website that facilitates online shopping and a robust customer support system, Lume Cannabis Co. goes above and beyond to ensure customer satisfaction and a seamless cannabis buying journey.
How We Made Our Choices for the Best Dispensary in Grand Rapids, Michigan
Our selection of the best dispensaries in Grand Rapids wasn't an easy choice, it was a meticulous process where we evaluated factors relating to quality, service, deals, and location. We wanted to make sure only to include dispensaries that offer a wide range of products and brands that are all high-quality, as well as establishments where customer service and experience are priorities.
To find the most exceptional cannabis destinations in Michigan, we looked through hundreds of customer reviews and explored everything each dispensary had to offer. Although there are certainly many more great dispensaries in Grand Rapids, these five have taken their place as the reigning champions.
Grand Rapids Dispensaries: Frequently Asked Questions (FAQs)
Is CBD Legal in Michigan?
CBD is legal in Michigan for anyone over the age of 21.
Is Delta 8 Legal in Michigan?
Under the 2018 Farm Bill, hemp-derived Delta 8 products are currently legal in the state of Michigan as long as the retailer has proper licensure.
Is Delta 9 Legal in Michigan?
Both hemp-derived and marijuana-derived Delta 9 is currently legal in Michigan to persons over the age of 21 who follow local guidelines and regulations.
Is THCA Legal in Michigan?
THCA is legal in Michigan as of November 2023 thanks to the 2018 Farm Bill that legalizes hemp-derived cannabis products containing less than 0.3% THC.
What is the Largest Recreational Dispensary in Grand Rapids?
Cookies is one of the largest dispensaries operating out of Grand Rapids, Michigan, offering hundreds of unique and effective products.