Highly Curated: The world's best 4/20 events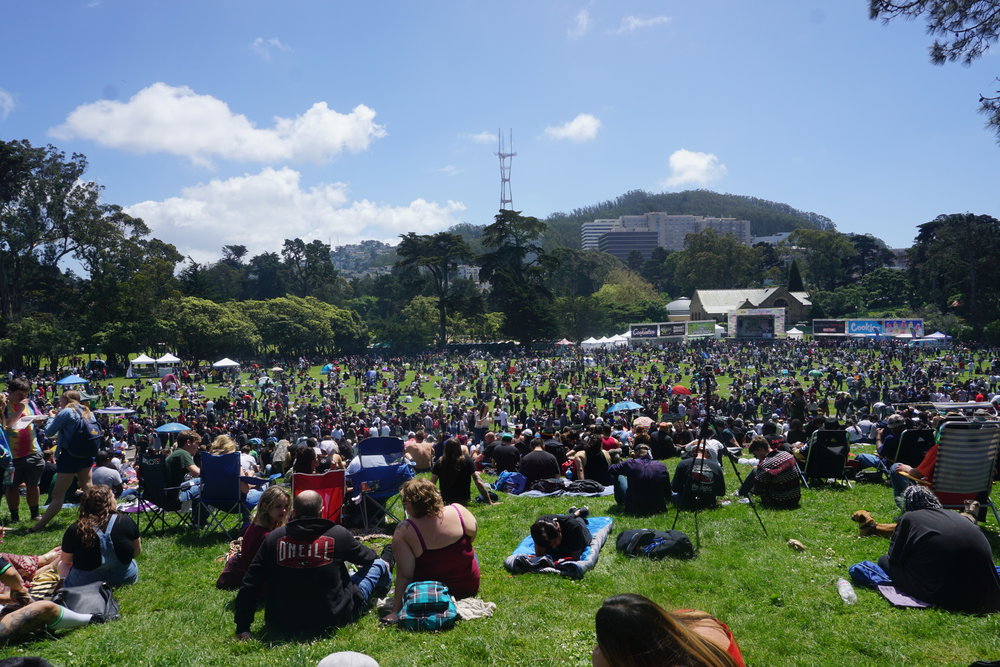 SAN FRANCISCO – BAY AREA
Doug Benson: Countdown to 4/20: Super High Me's cannabis comedian Doug Benson rings in this year's 420. 10:30 p.m. – 12:30 a.m., Thu., April 19. $20. Punch Line Comedy Club, 444 Battery Street, S.F. www.ticketmaster.com/doug-benson-countdown-to-4-20-punch-line-comedy-club-sacramento-sacramento-ca/venueartist/229428/2203638
4/20
4/20 Hippie Hill: The second year as a licensed event means more safety, security, amenities, food and better music. Sponsored by The Green Door, Cookies and others. Fri., April 20. Free. www.420hippiehill.com
Berner Presents Hippie Hill at Bill Graham Civic: Join Taylor Gang rapper and Cookies SF's Berner for a hip-hop performance evoking the spirit of San Francisco's Hippie Hill 4/20 celebration. Lineup includes performances by 2 Chainz, Chief Keef, Trippie Redd and Styles P. 5:30 p.m., Fri., Apr 20. $59.50 – US $65.00 Bill Graham Civic Auditorium, 99 Grove Street, S.F. www.ticketmaster.com/berner-presents-hippie-hill-san-francisco-california-04-20-2018/event/1C0054370032945D
420 Fest SF: Those looking to avoid Hippie Hill this year can find refuge at Dolores Park for the first annual 420 Fest. Events include yoga, discussion with cannabis experts,  a 5K and 10K race, an edibles tasting bar, live art and the Stoned Olympics for a more conscientious cannabis experience. 3 p.m. – 1 a.m., Fri., April 20. Free. Mission Dolores Park, 19th & Dolores Street, S.F. www.420festsf.com/
SoMa StrEat Food Park: 420 Celebration: The best of San Francisco's food trucks team up to bring two shifts of food and drink specials priced at $4.20, including craft beer, sangria, empanadas, gyoza and gyro-bowls. 11 a.m. – 3 p.m. and 5 p.m. – 9 p.m., Fri., April 20. Free. SoMa StrEat Food Park, 428 11th Street, S.F.
http://sf.funcheap.com/420-celebration-420-craft-beer-sangria-food-specials-soma-streat-food-park/  
Synchronicity: Sample & Share Cannabis Product Party: Sampling of edibles and CBD tinctures in a supportive, women-only space. Includes gift bag with samples and product information. 6 p.m. – 8 p.m., Fri., April 20. $25. Private Residence, Sacramento. https://www.eventbrite.com/e/want-to-learn-more-about-bringing-cannabis-into-your-life-tickets-44117699226?aff=es2
The Magic CannaBus 4/20 Tour: Maiden voyage of the Magic Cannabus on a tour of San Francisco's cannabis culture in a bus equipped with 16 video projectors, sound system, "psychedelic light shows," and more. Includes a stop at Barbary Coast Collective. 7 p.m., Fri., April 20. $99.  https://magicbussf.com/tour/the-magic-cannabus/
Harborside Presents 4/20: Vendors onsite, specials, deals and much more! www.eventbrite.com/e/mile-high-420-festival-tickets-43914449300?aff=es2
4/21
Cannabis+Yacht Tour on the Bay: Curated yacht tour of San Francisco Bay and local history. Includes goodie bags with vape pens and low-dose edibles. 11:30 a.m. – 5 p.m., Sat., April 21. $100 – $150. Address upon purchase, Pier SF, S.F. https://token-events.ticketleap.com/cannabis-yacht-tour-421/
4/22
420 Wellness Retreat Tour: Snoop Dogg and Wiz Khalifa end their 420 tour on a high note in the Bay Area. 7 p.m., Sun., April 22. $65 – $82.75. Event Center at San Jose State University, 290 S 7th Street, San Jose. www.axs.com/events/351669/snoop-dogg-wiz-khalifa-tickets
SEE ALSO:
420 in Weed Country: With 420 Comic Ngaio Bealum, the local cannabis culture musicians the Mendo Dope Band and Winstrong! Redwood Valley, Fri. April 20. www.eventbrite.com/e/420-in-weed-country-with-ngaio-bealum-mendo-dope-band-winstrong-dj-smokin-joe-tickets-43373112146
---
LOS ANGELES
4/17-4/22
Palm Springs Cannabis Film Festival & Summit:  A progressive gathering of cannabis enthusiasts from all walks of life to enjoy international films, shorts and documentaries, expert speakers, panel discussions, educational programs and social gatherings. "This is where arts and culture become an access point to the current discussion." 8 a.m., Tue., Apr 17 – 8 p.m., Sun., Apr 22. $15-$249. Camelot Theatres, 2300 E Baristo Rd, Palm Springs. www.eventbrite.com/e/palm-springs-cannabis-film-festival-summit-tickets-41295820912
4/19-4/24
Cannabliss Retreat: A six-day retreat in a Malibu villa for both the canna-beginner and the cannasseur kicking off with an all-day 420 party. The full experience offers cannabis education and certification workshops with Dr. Ira Price, infused cooking lessons, acupuncture and yoga, introspective healing and hot tub time. 1 p.m., Thu., April 19 – 2 p.m., Tue., April 24. $150-$2,500. Location shared upon purchase, Malibu. www.cannablissretreats.com/
4/20
Cannabliss 420 party: The third annual Cannabliss retreat begins with a 420 party with live music, vape bar, cannabis ceremonies, yoga, educational workshops and a vendor's market in a private, poolside setting. 12 p.m. – 12 a.m., Fri., April 20. $150. Location shared upon purchase, Malibu. www.cannablissretreats.com/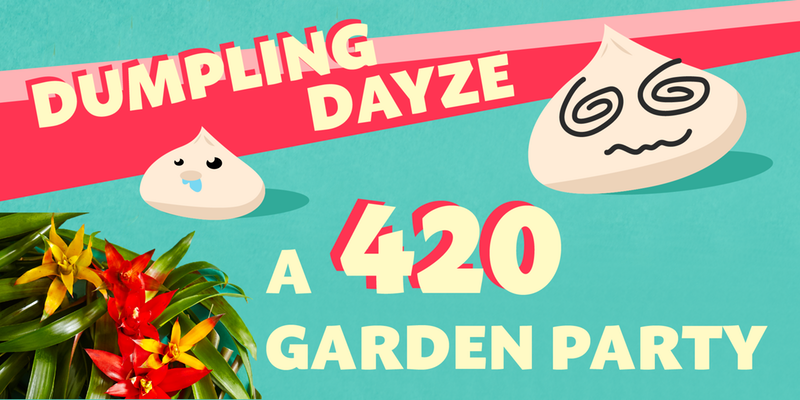 Dumpling Dayze: A 420 Garden Party: The first event in a new cannabis dining experience by Chef Wendy Zeng of WenYerHungry and Chef Shruti Patel of Rangoli-Food Through Color  to destigmatize the recreational use of cannabis with "dumplings from around the world," including samosas, potstickers and pierogi. 7:30 p.m. – 9:30 p.m., Fri., April 20. $50. Location shared upon purchase, Los Feliz, CA. www.eventbrite.com/e/dumpling-dayze-a-420-garden-party-tickets-43276458051?aff=es2
4/20 Ganja Yoga Touch with Isochronic Tonal Musical Journey: Restorative yoga class led by Vanaspati Yoga leader Miho Watanabe with hand touch massage by Joleen Tafoya with a "ceremonial consumption circe," of cannabis offerings, isochronic music playlist and visual projections. 7 p.m. – 10 p.m., Fri., April 20. $40. Location shared upon purchase, Cambria, CA. www.meetup.com/Vanaspati-Yoga/events/249276352/
4/20-4/22
High Times Cannabis Cup LA: A weekend of live music performances, educational seminars, culinary experiences and cannabis competition at one of the most popular cannabis lifestyle festivals worldwide. Performance schedule TBA. 12 p.m. – 10 p.m., Fri., Apr 20 – Sun, Apr 22. $45 – $420. National Orange Show Event Center, 689 South E Street, San Bernardino. www.eventbrite.com/e/high-times-cannabis-cup-socal-2018-tickets-43722590445?aff=erelexpmlt
Magic Bus Experience: Three days of opportunity to experience an interactive "60,000 square foot psychedelic wonderland" inspired by cannabis culture. Amenities include a "hotbox" maze, VIP lounge, "Munchie Mountain" snack bar and pillow fort. 11:30 a.m. – 4:20 p.m. or 6 p.m. – 11 p.m., Fri., April 20 – Sun., April 22. $45-$65. The Reef DTLA, 1933 S Broadway, Los Angeles. www.magicbusexperience.com/
4/21
Growing Your Own Cannabis: The Next Step: Westside Growers hosts a class on strain cross-breeding and cloning. 2:30 p.m. – 4 p.m., Sat., April 21. Free. Santa Monica Public Library, 601 Santa Monica Boulevard, Santa Monica.
www.meetup.com/Westside-Growers-How-to-grow-your-own-cannabis-from-home/events/249035390/
4/22
Ganja Yoga: Free Earth Day Beach Cleanup and Yang & Yin to Restore: Local beach cleanup followed by an outdoors hatha flow class to celebrate Earth Day. Flower vaporizer and vape pens provided. 11 a.m. – 2 p.m., Sun., April 22. Free. Location shared upon RSVP, San Luis Obispo. www.vanaspati.yoga/event/ganja-yoga-04-22-18/
---
SEATTLE
420 Fest: From the makers of Hempfest. www.hempfest.org/events/420fest/
---
DENVER
Mile High 420 Fest: With Lil Jon, Lil Wayne the original Wailers and more. Free with RSVP. www.eventbrite.com/e/mile-high-420-festival-tickets-43914449300?aff=es2
420 On the Block: Three days of shows featuring Action Bronson and Washed Out. $59 for 3-day pass. https://420ontheblock.com/
---
BOULDER
4/20
Snoop Dogg's 420 Wellness Retreat Tour: Snoop Dogg begins his tour with performances from Migos, Lil Pump, Rob Stone and Tiara Thomas. 5 p.m., Fri., April 20. $39.75 – $120. Fiddler's Green Amphitheatre, 6350 Greenwood Plaza Boulevard, Greenwood Village, Colorado. www.axs.com/events/351203/snoop-dogg-migos-tickets
4/22
Signature Interactive Earth Day Brunch: Cannabis Kitchen: Celebrate the Earth with a private dining event in the Boulder mountains and an infused cooking lesson by cannabis chefs Robyn Griggs Lawrence and Sean Cosby. Ingredients purchased during event. 10 a.m., – 2 p.m., Sun., April 22. $200. Pickup in Denver and Boulder, final location in Fourmile Canyon, Boulder. www.cannabiskitchen.co/store/p1/Signature_Interactive_Earth_Day_Brunch_.html
SEE ALSO:
Snoop Dogg and Migos: Englewood. $56. http://amphitheaterenglewood.com/fiddlersgreen/Tickets-Active.php?eventID=2647434&venueID=3301
---
WASHINGTON DC
National Cannabis Festival. Sat. April 21. RFK Stadium. With Cypress Hill. $42. https://nationalcannabisfestival.com
Listings compiled by Amelia Williams