A Cannabis Marketing Case Study: How This Dispensary Generated Buzz (Ad)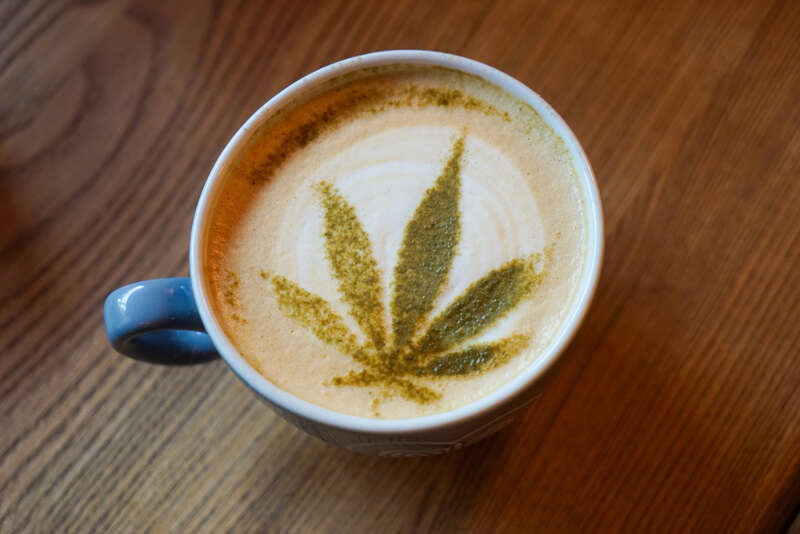 (Ad) This is the story of how a Bay Area cannabis dispensary elevated its marketing strategy to reach its target audience and generate buzz using Hearst Bay Area's portfolio of marketing tactics.
Introduction
Liberty Cannabis had big plans for 2021. They were opening their first dispensary in San Francisco.
Before 2021, Liberty's dispensaries were primarily on the East Coast and have since expanded into California. Their mission was to bring their stylish boutique dispensary experience to San Francisco's Pacific Heights neighborhood and become the go-to destination for cannabis consumers in their new locale.
Liberty is known across the country for its dedication to the communities they serve – they're committed to local social equity initiatives and highlighting products grown close to home. That's why it was especially important to them to get this launch right in their newest community.
Junction 37, the marketing agency managing Liberty's San Francisco launch, is a purpose-driven B corp, that focuses on clients with ethical missions and commitments to sustainability. They were partnering with Liberty on the campaign promoting their West Coast debut.
Junction 37 knew that in a hyper-competitive industry like cannabis, it would be critical for their client to make a splash in the local market.
The challenge? Liberty was venturing to a new area  – and you only get one opportunity for a first impression!
As a result, Junction 37 searched for a cannabis marketing partner with Bay Area expertise, access to a San Francisco audience, and confidence navigating multiple advertising channels and strategies. Enter: Hearst Bay Area.
Ultimately, Junction 37 and Hearst Bay Area worked together to launch an exciting advertising campaign that drove awareness for the new Liberty location, and here is the story of that partnership.
Artwork by Elsa Watkins
Business Challenges 
Cannabis advertising is a challenging task. Between advertising regulations, constantly changing legal environments, and plenty of social stigmas to go along with it, it's essential for any advertiser to do their homework before launching a campaign.
On top of those existing limitations, Junction 37 knew that getting Liberty Cannabis enough exposure would be a significant challenge.
Jayde Levesque, Partner at Junction 37, shared that as her team prepared for Liberty's grand opening, they were well aware that "the competition is significant, and loyalty is an issue. Customers aren't necessarily loyal to a specific dispensary."
Another challenge? Customers want convenience. They're likely to go to the nearest dispensary, so it's all about marketing hyper-locally.
Junction 37 knew they needed to work with a partner that could help them appeal to customers in the area surrounding the dispensary. Once those customers saw the in-store experience and incredible community, the loyalty would come.
Strategy
To raise awareness for the new store, Junction 37 looked for media opportunities to help Liberty stand out. They identified Hearst Bay Area as a good fit due to our authority in the area, incredible audience reach, access to high-impact placements on SFChronicle.com and SFGATE.com, and custom content offerings.
Ikaika Nakoa, Strategic Account Executive at Hearst Bay Area and expert partner for our cannabis clients, worked with the Junction 37 team to develop a strategy that would hit the mark.
During the partnership's initial stages, Hearst Bay Area developed a media plan customized to target the dispensary's ideal audience. It was important for Hearst Bay Area to reach a cannabis audience in multiple ways, so the team developed a strategy that utilized a mix of different channels and touchpoints.
The campaign became a mix of native advertising, email marketing, and precisely targeted high-impact rich media display ads.
High Impact Display Ads 
Bay Area cannabis consumers regularly engage with SFChronicle.com and SFGATE.com. In fact, Bay Area cannabis consumers are 50% more likely to visit SFChronicle.com and 33% more likely to visit SFGATE.com compared to the total market (Scarborough Research, R2 2021).
Armed with this research, the Hearst Bay Area team deployed a series of high-impact rich media display ads on these sites.
The team optimized throughout the campaign from January to April 2021, using rich media (.gifs) and testing different placements and offers. They discovered which options worked best by looking at several key metrics like impressions, clicks, conversions, click-through rates, and more.
Email Marketing 
With the power of email marketing, the Hearst Bay Area team was able to spread the word about Liberty's new storefront straight in the inboxes of targeted cannabis consumers.
The team sent out e-blasts to relevant audiences in specific zip codes, using a strategic send date and time backed up by data and tracking the performance of links within the emails.
Testing out different offers, Hearst Bay Area was able to further refine each email sent out throughout the campaign.
StoryStudio Custom Content
Junction 37 worked with the StoryStudio to develop a custom content piece published on SFGATE to announce the grand opening.
The native ad told the story of the dispensary's opening and highlighted the unique elements that differentiate the Liberty brand.
The native content piece was a key touchpoint, and as Jayde noted, it "felt like it came from a trusted source."
In addition to its home on SFGATE, StoryStudio distributed the content through paid placements on other trusted sites, such as the San Francisco Examiner, Huffington Post, and CNN.
Experience
Junction 37 and Hearst Bay Area were aligned throughout the process. Everyone involved knew that they needed to focus on reaching their target audience with multiple formats of compelling content, and Hearst Bay Area used our in-house resources to create an impactful campaign.
During the process, Hearst Bay Area and Junction 37 worked together to optimize campaign creativity and ensure that each part of the campaign was aligned with the overall goal.
Jayde Levesque stated that one of the reasons this campaign was so effective was that "consumer behavior requires multiple touchpoints, and by working with Hearst Bay Area, we were able to deliver through multiple integrated channels."
Junction 37 had access to the Hearst Bay Area team and noted the responsiveness, enthusiasm, and great communication as part of their experience.
"When working with vendors and clients, it's important that the communication goes smoothly. Ikaika and the Hearst Bay Area team were so responsive and delightful to work with," added Jayde.
Results
As the campaign wrapped up and Liberty Cannabis's first San Francisco dispensary opened its doors, both Junction 37 and their client were impressed with the results.
The campaign generated over four million impressions and thirteen thousand clicks to the landing page, and for both the display ads and email marketing campaign, click-through rates exceeded industry benchmarks.
StoryStudio's custom content also exceeded industry standards. While the benchmark for average time spent reading is just around one minute, this story had an average time spent of two minutes and eighteen seconds! Not only was StoryStudio successful at getting the story in front of Liberty's target audience, but they engaged them as well.
And the experience didn't end there. Hearst Bay Area provided extensive reporting that showed the extent of Liberty's return on advertising spend, which was a helpful and transparent way to discuss performance.
When asked if Junction 37 would work with Hearst Bay Area again, Jayde replied, "absolutely!"
Hearst Bay Area is proud to partner with innovative, mission-oriented, and community brands like Liberty Cannabis and Junction 37.
Thank you, to Liberty Cannabis and Junction 37!