Portrait Gallery: I, Budtender
October 11, 2017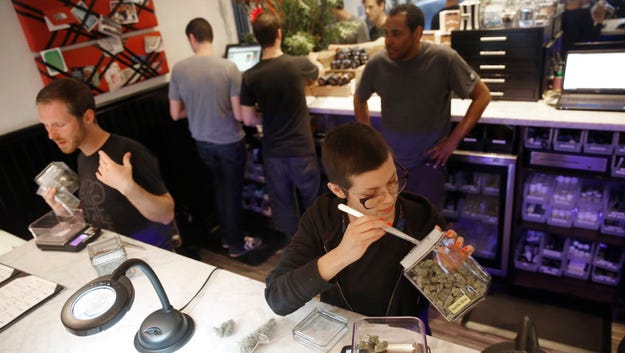 The rise of medical marijuana over the past 21 years in California has created a new job title: budtender.
The person behind the counter at your local dispensary must be part clerk, part herbalist, part therapist and all weed aficionado.
Usually trained on the job, budtenders come in many different ages and ethnicities, and from all walks of life. They're artists, sound engineers, former managers of coffee shops or nonprofits, or college students. What unites them is a capacity for compassion and patience, and, unlike most service industry work, a sense of purpose.
We fanned out across the Bay Area to capture portraits of the public face of the industry, letting them tell their stories.
Allegra Matthews
Age: 29
Residence: San Francisco
Employer: The Apothecarium
What does your family think about your job? "My parents are Baptist missionaries. (My decision to work here) was a delicate conversation at first. But then my father was diagnosed with stage three melanoma and that was the turning point. ... I've got most of my family using cannabis in one form or another right now."
What advice would you give to a new employee? "Compassion fatigue is real. We're dealing with such intense situations all day long, you can really easily burn out. You have to be careful to take care of yourself. ... Personally, I go hiking a lot and I write haikus."
Kyle Shaughnessy
Age: 28
Residence: San Francisco
Employer: The Apothecarium
How did you end up in the cannabis industry? "I got a master's degree in human rights and looked for a job in nonprofits and wasn't having much luck. ... I worked here for a few weeks and said, 'I'm never going back to the nonprofit field.' All I wanted to do was help people. I just found a better way to do it."
What lessons have you learned on the job? "You can't put people in a line and pick out the ones that medicate. Everyone does it."
Sue Gardea
Age: 62
Residence: Berkeley
Employer: Berkeley Patients Group
How did you end up working in the cannabis industry? "I thought this would be a perfect place to come to because I wouldn't get drug-tested. I'd been smoking cannabis for years. (Laughs.) At the time my son's friend worked here, but instead of my son, I came and applied."
What does your family think? "I haven't told my mom still. I told her that I work at a medical facility."
Alan Clark
Age: 52
Residence: Oakland
Employer: Berkeley Patients Group
What have you learned on the job? "About six months ago, I had a guy come in and he said that his mom had passed away that week. She'd been suffering from dementia. 'You gave me CBD stuff and I don't know if that's what it was, but she seemed to be calmer, able to eat and had these moments of incredible clarity,' he said. 'We had three or four conversations during the last month of her life. I had to believe that what you gave me helped her get there. I had to come in and tell you.' Two days later another guy came in and told me the exact same story."
Krystal Xiques
Age: 32
Residence: Berkeley
Employer: SPARC
Why did you start working in cannabis? "I was in school for music in L.A. and I wanted to get into an industry that would support me creatively as I supported myself as an artist. It happened to be cannabis for me. ... It also helped me immensely with my stage fright."
What do you think is the biggest misconception about people in your line of work? "(Cannabis) made me more productive. Cannabis users are athletic. They want to get out there and do things. I jog every other day. I love hiking. Just because we use a plant that relaxes you, calms you and opens your mind doesn't mean it makes you lazy or removed from society."
Melvin Thomas
Age: 32
Residence: Richmond
Employer: SPARC
How did you end up in the industry? "Before this, I was a supervisor at Peet's Coffee for seven years. I applied here three times and they finally called me back for an interview. I've been a member here for a good long time. I'm super comfortable here."
"Here is finally a place where I'm calm, and I really love that I don't have to hide that I went out and had a joint. There's no judgment for that. It's the best job I ever had."

Michelle Ina
Age: 43
Residence: Richmond
Employer: Harborside
What's surprised you the most about working here? "I've been here six years. I think weed years are like dog years. It feels like these six have been like 20. I didn't realize that all these patients wanted to come talk to me about medicine, their lives, what they're trying to deal with."
What advice would you give to someone starting the job tomorrow? "I'm going to call a new employee a rookie for a year. Don't come in here thinking you know everything because you don't. I don't."
Ben Versluis
Age: 31
Residence: Oakland
Employer: Harborside
How did you end up in the industry? "I went to a cannabis career fair in San Francisco. Got dressed up, brought my resume and met Harborside. I interviewed for a job here and at Pandora in Oakland because my background is in audio production. I was offered the job at Pandora and turned it down."
What have you learned on the job? "Everyone uses it for different reasons. ... I've learned to check a lot of my own judgments about my own cannabis use. I've learned to be accepting of people regardless of why they're using cannabis or how much they're using it."
Max Savage Levenson is a Berkeley-based freelance journalist.